Stage a "Winter-vention" this weekend at Brimacombe
Do you have a friend that is sitting around the house either "waiting for winter to start" or counting down the days until it's over? This weekend is the perfect time to stage an intervention!We live in Canada, for goodness sakes, and it's time to roll with the punches Mother Nature dishes out. Who wants to spend 3-4 months of the year hibernating!?!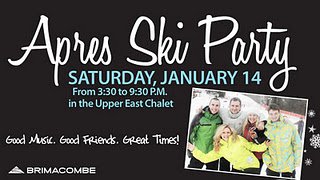 STEP ONE: This Saturday night at Brimacombe we're hosting our first Apres Ski Party of the season from 3:30-9:30 p.m!Grab your family and friends and cozy up in the warmth of the East Chalet while listening to live music and enjoying dinner and munchie specials on sale in the cafeteria and, of course, a cash bar. Remember: All Apres Ski Parties are now on Saturday nights. No tickets are required and no admission will be charged! Just show up & bring your family and friends.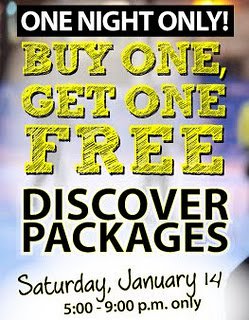 STEP TWO: If you've successfully managed to drag that hibernating friend, or family member, off the coach, you can also take it one step further and actually get them out onto the slopes, by taking advantage of the 2-for-1 Discover Packages being offer this Saturday night only!On the evening of January 14, 2012, Brimacombe's already low-priced Discover Packages are buy one, get one FREE*!For only $48, two people can learn to ski or snowboard with a Beginner Discover Package that includes a four-hour equipment rental and beginner lift ticket, plus a one-hour beginner lesson ? everything they need to get started on the slopes!Not a beginner? Experienced Discover Packages are only $75 and are perfect for the lapsed rider in need of a refresher.Please plan to arrive at least 30-40 minutes before your lesson to allow time for purchase and equipment fitting.*PLEASE NOTE: This 2-for-1 Discover Package offer is valid on the evening of January 14, 2012 only. Lift ticket and equipment rental runs 5:00 p.m. to 9:00 p.m. Group lesson is at 5:30 p.m. Offer is not valid in conjunction with any other coupon or promotional offer. Discount applies to Discover Package of equal or lesser value. Both Packages must be purchased in the same transaction. ** Lift ticket included in the Discover Package #1 for Beginners is valid on Brimacombe's Magic Carpet only. The Lift Ticket included with the Discover Package #2 for the Slightly More Experienced allows unlimited access to all open trails.[Click here for more details on Brimacombe's 1st Apres Ski Party of the Season][Click here more details on Brimacombe's Discover Packages]