Second round of Decade Head to toe!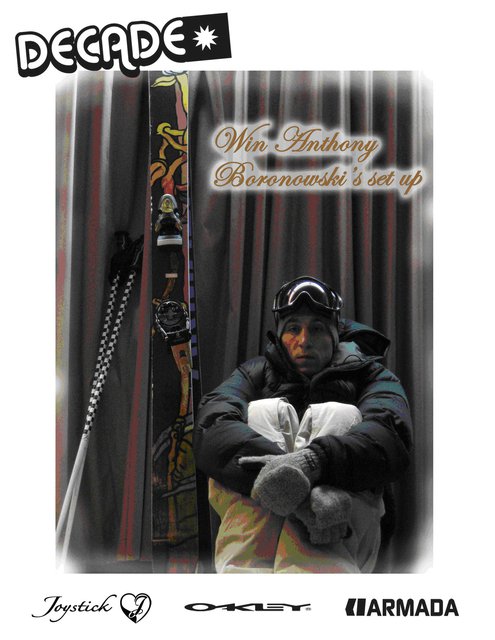 The Second round of the Decade Head-To-Toe Giveaway contest series is upon us. For this round, we'll be giving away Decade team rider Anthony Boronowski's setup. Also, new for the second round, we've opened up the contest to Canadians. During this session, you can enter to win:- Armada Ant Pro Skis- Armada Beanie- Joystick Poles- Oakley Eyewear- Oakley Jacket and PantCheck below for all the rules and regs and good luck.Head-To-Toe Giveaway Contest Rules & Regulations Contest Description The Decade Head-To-Toe Giveaway Contest provides an opportunity for consumers to win a complete product set up from one of three Decade pros and their respective sponsors throughout the season. The contest will be comprised of three sessions. Each session will focus on a different athlete. A session will remain open for entry for a prescribed period of time. After the close of each session, a winner will be announced no sooner than one week and no later than three weeks. Contest Format How to Enter:To enter, go to
http://www.freeskier.com
From there, follow the links to the Contest page. Follow the instructions on the page to submit your entry. Submissions will be in the form of an e-mail to the corresponding session athlete detailing in 50 words or less why that athlete should give you all that free stuff. Entries over 50 words will not be considered. How to Win:All entries will be sent directly to the corresponding athlete. Each athlete will select at their sole discretion a winner based upon criteria known only to the athlete. The winner will be shared with the Decade and Freeskier contest officials to verify eligibility. The winners will be notified within three weeks of the completion of each session, but not sooner than one week. Get creative, because creativity counts.Rules & Regulations1. Eligibility- The Contest is open to legal residents of the U.S. residing in the 48 contiguous states and Alaska (with the exception of, Florida, Hawaii and Rhode Island), and legal residents of Canada. You must be 16 years of age or older. Individuals who are or were employees of Decade Snow & Skate, LLC, Freeskier or any of the affiliated companies providing products and/or prizes and the immediate families of each are not eligible. Entry materials become the property of Decade Snow & Skate, LLC and will not be acknowledged or returned. Decade Snow & Skate, LLC is not responsible for lost, late, damaged, misdirected, computer or software failures, or unsuccessful attempts to notify the winners. Any attempt by a participant to use multiple e-mail accounts or multiple e-mail addresses to multiply the number of entries or any attempt to use an automated system or agent to submit entries is prohibited and will result in disqualification from the Contest. Limit of one (1) prize per household or family. In the event of a dispute as to registration, the authorized account holder of the email address used to register will be deemed to be the participant/registrant. The authorized account holder is the natural person assigned to the email address by an Internet access provider, online service provider, or other organization responsible for assigning email addresses for the domain associated with the submitted email address. A participant or potential winner may be required to show proof of being the authorized account holder of the email address. 2. Conditions- All federal, state, and local laws and regulations apply. Void where prohibited. Decade Snow & Skate, LLC is not responsible for any expenses incurred by participants in connection with participation and the claim or use of any prizes awarded in the Contest. By submitting an Entry Form, each participant agrees to be bound by these Contest rules, and any decisions related to the Contest, the Contest rules, the operation of the Contest, and the qualifications and eligibility of any participant are at the sole discretion of Decade Snow & Skate, LLC and are final. Each participant agrees to release and hold Decade Snow & Skate, LLC, their employees, officers, directors, shareholders, agents, representatives and their subsidiaries, parent companies or other affiliated companies harmless from any and all damages, losses, claims and/or liabilities arising out of his participation in the Contest or resulting from accepting or claiming any prize awarded hereunder. Decade Snow & Skate, LLC reserve the right, in their sole discretion, to terminate, suspend or otherwise cancel the Contest at any time for any reason. Participants may be required to complete a Liability Release Form. Participation in the Contest constitutes permission (except where prohibited by law) to use winners name, likeness, biographical information, photographs and any statements or remarks made about winning or participating in the Contest for advertising and promotional purposes (in any medium) without additional compensation. Participants acknowledge and agree that Decade Snow & Skate, LLC, may share any and all information collected through the Contest from time to time with their subsidiaries, parent companies, or other affiliated companies in accordance with the privacy policies posted on
http://www.decadesnowandskate.com.
Decade Snow & Skate, LLC may verify that all winners are qualified. Income and other taxes (if any) are the responsibility of the winner. 3. No Purchase Necessary to Win. 4. Disclaimer- Decade Snow & Skate, LLC reserves the right to change any part of the Contest at any time. Athletes and Prize Packs are subject to change. Please allow 4-6 weeks for delivery of prizes. 5. Term & Termination- This session of the contest will end on January 13th. The term of the Contest is subject to change.