Salomon Jib Academy wraps up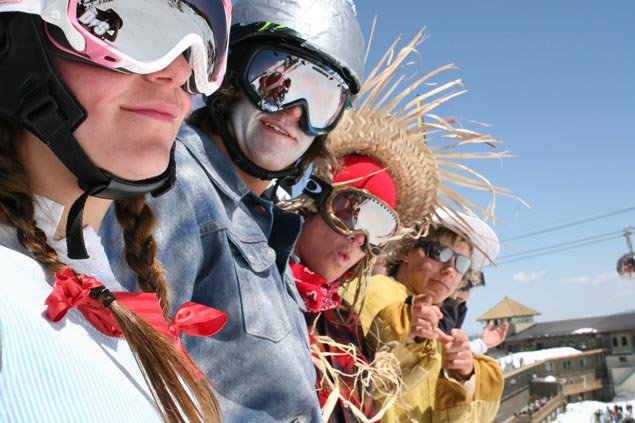 Salomon Jib Academy
The twelve lucky athletes who will
be attending the Jib Academy Final probably aren't sleeping much these
days in anticipation of this amazing event. Jibbers from Sweden, Switzerland,
Japan, France, Canada and the US will come together with the entire
Salomon International Team to ski, film, shoot and hang out with the
best skiers in the world. The place is Mammoth Mountain, California.
Jib Academy athletes will get to session the Orage Masters course after
the Orage contest on May 6th and 7th for 2 days of private
course use with the Salomon team! Mammoth just got some new snow and
the season is far from over in many places!
Salomon Jib Academy is an international
tour for athletes 16 and under who participate in one day events. Athletes
ski in groups with a pro Salomon athlete for the morning before voting
for one of their peers to head to the afternoon's final. All Jib Academies
use Slopestyle courses at great resorts all over the world. All winners
from each participating country will come together in Mammoth for the
final.
After a week in Mammoth the Salomon
Team will vote for the athlete they think deserves a full year sponsorship
and $1,000.00 towards ski travel for next season! This includes all
Salomon gear and clothes. The action starts Saturday, May 5th
and you can check in to Newschoolers every day for updates on all the
fun.
Unfortunately, the Breckenridge
Jib Academy event has been cancelled for this year. The winners
from the North American Jib Academy stops are as follows:
Anna McGee-
Park City Resort, UT
Nick Martini-
Waterville Valley, NH
Nick Goepper-
Snow Trails Resort, OH
Kyle Wallace-
Northstar at Tahoe, CA
Christophe Lacombe- Mont St-Anne, QC
Thanks to all the resorts, participants,
Newschoolers, Recco and everyone who has helped support the Salomon
Jib Academy in its first year! Stay tuned for all the skiing action