Poor Boyz 'TWENTY'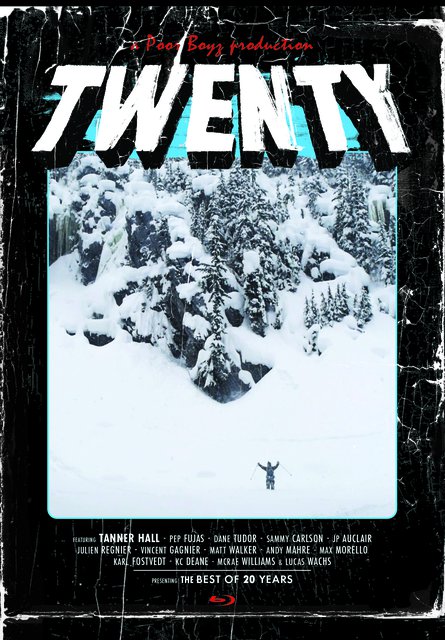 Twenty years, one sport, infinite progression. Skiing has come a long way in the past twenty years. Poor Boyz Productions has been there capturing its most exciting moments. Join us as we take a look back to the future. "TWENTY" will soon be available to fans worldwide as a DVD/Blu-Ray Combo and on iTunes. But for now please enjoy the trailer!
Poor Boyz Productions was born with the ambition to be " True to the Movement" of " New School" skiing. With a camera in hand and ski boots on our feet, The Poor Boyz crew has done just that for the last 20 years. From our early days of the resurgence of New School, the first rail ever shown in a movie, the New Canadian Air Force gaining respect in a snowboard park, the revolution of style, discovering the undoable, and bringing creativity to Alaska. Our crew and the family of skiers involved in Poor Boyz has undoubtedly kept the pulse of our core sport beating.
This Year " TWENTY" brings you the best of the best, from todays top athletes as well as unseen relics from the vault that will blow your mind once again. Featuring: Tanner Hall, Pep Fujas, Andy Mahre, Sammy Carlson, Dane Tudor, JP Auclair, Julien Regnier, Vincent Gagnier, Matt Walker, Lexi Dupont, Max Morello, Lucas Wachs, Karl Fostvedt, KC Deane and the best of twenty years.
http://www.newschoolers.com/videos/watch/727415/TWENTY-TRAILER
"Looking back through all the archives was the biggest trip of my life, I can't believe what's gone down in the past 20 years. Tyler Hamlet and the PBP crew have captured so many Amazing moments it's head spinning. I almost cried watching Pep Fujas's and Tanner Halls segments completely mind blowing!" -Johnny DeCesare "This past winter was the best one yet and seeing all my old footy with PBP in the seggy brought back some good
memories with some great people!" -Tanner Hall
"TWENTY" will soon be available for digital download on iTunes. The 20th Anniversay DVD/Blu-Ray Combo, is also available at http://www.poorboyzstore.com/dvd/twenty-dvd-blu-ray-combo and at your favorite ski shop!
Those seeking a theatrical experience also have plenty to be excited about. "TWENTY" will premiere worldwide at the International Freeskiing Film Festival in Montreal, September 19th, and is on the road later this fall with screenings across the globe. For more information on screenings and availability, check out poorboyz.com.
Tanner Hall
Pep Fujas
McRae Williams
Max Morello
Max Morello
Lucas Wachs
KC Deane
Dane Tudor