Moments Notice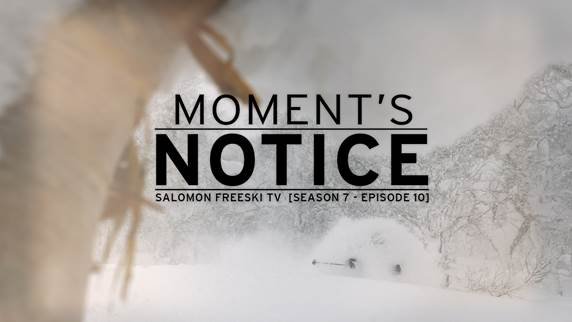 If Salomon Freeski TV producers call…will you be ready? The answer was a very stoked "YES" when the Freeski TV crew asked skier Stan Rey if he was ready for a visit to the Japanese white room. This week's episode, "Moment's Notice" is a look at what happens when producers draw a skier's name from a hat and give him just two days to get ready for the trip of a lifetime. Lucky man Stan details his surreal experience in the blog post below, discovering that the Land of the Rising Sun is the Land of the Dumping Snow.
http://www.newschoolers.com/watch/695766.0/Moments-Notice---SFTV-S7E10
Winter was off to a slow start here on the West Coast. Unusual weather patterns moving across our mountain ranges brought rain to high elevations right before a cold snap which left us with bulletproof, rocky and marginal conditions. With no snow in the long-term forecast, the morale of the ski community was an all-time low and après ski after one run became common practice. In early January all this changed -- well, at least for me. I was up at Whistler Mountain helping Ryan Weese and Philip Lake take down all their Salomon demo skis off the mountain when I saw I had missed a call from Jeff Thomas. I remember him telling me at the beginning of the winter, "Make sure to answer your phone if I call you. It's probably important." So I scrambled and called back as soon as possible, which ended up being the greatest phone call of my life. He asked me if I wanted to fly out to Japan in two days to go skiing! I dropped everything I had planned and said yes with excitement.
Two days later, Jeff and Blair Richmond picked me up from my house and off we went to start our long and epic journey to Japan. We met up with Chris Rubens at the airport, boarded our plane, and met up with the rest of the crew including Grant Gunderson and Tristan Knoetzer on the other side of the pond. We exchanged a few high fives and loaded all our bags onto the bus and off to mountains we went! We arrived to our hotel in Rusutsu a few hours later in a huge snow storm and five-foot snow banks. Shortly after, our awesome and funny guide, Tatsuya Tayagaki pulled up in this sweet little motor home which was caked with three feet of snow. Super tired, we all grabbed our bags, went to our rooms and off to bed.
Going up the gondola the next morning, I started getting anxious about what my first real pow day of the year was going to be like. Having no clue how much it snowed overnight, we were hoping for the best. We all gathered at the top and Jeff told us to throw on our GoPros and go for a run. We raced into the trees and all you could hear was hoots and hollers all the way down as we skied two feet of fresh blower pow. Just that first run was worth the trip. Laughing and high-fiving we headed up for our next run. The boys took out the cameras and shot us trenching through the pow, blowing through pillows and airing off every natural feature in sight. It was so deep we were constantly gasping for air whenever we could get a chance. This set the tone for what the next two weeks were going to be like. One of my most memorable parts of the trip was skiing 45cms of pow at night in Niseko! It was something I never really got to do before and had such a blast with the boys getting fully white roomed in the dark.
The conditions were so good that a few of us changed our flights and stayed an extra week. Our extended stay was a little different, as the sun was shining. This was quite bizarre as we had not seen it for the first week we were there. So, we decided this was a good opportunity to go do a little ski touring and explore Japan's backcountry. We got to see some amazing views and ski some great runs. All in all this was a trip of a lifetime. I got to ski pow every day -- three of which were the best pow days I have ever had -- followed by an onsaun to refresh the body, hang out with an awesome crew, and last but not least take in the Japanese culture. I feel so lucky and fortunate that I got that call from Jeffy that one afternoon in January and can't wait to go back to Japan in the near future!
words by Stan Rey