Maude Raymond answers your questions!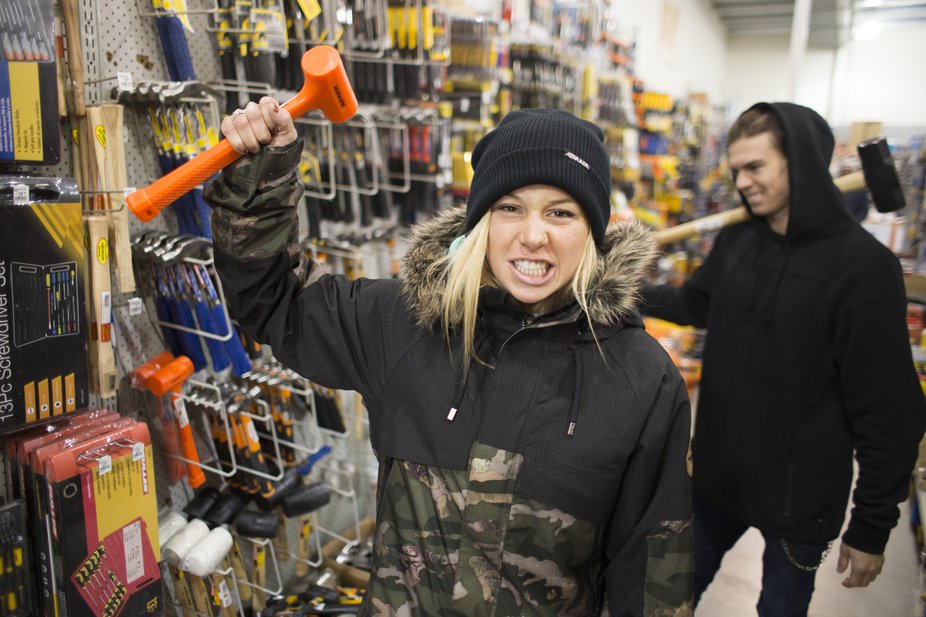 Photos: OC / Armada Skis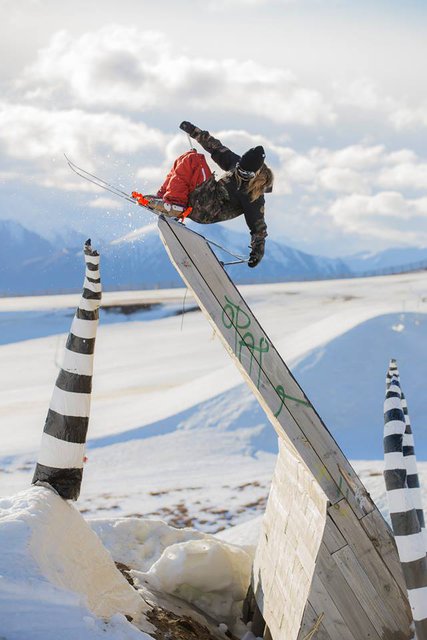 Let's say you had to film a girl's urban segment for a major movie. Where do you go and who do you bring? - t_rob
I would start in Montreal/Quebec because it's home, then I would go to Nelson, BC because I've heard great things about that place for urbans & pow. I would bring my homie Leigh Powis because it's super fun to film with him, he has a outstanding creativity, and he also knows some real dope spots. I would also go with the Inspired Crew obsviously because they are the best and it's a damn good time, so motivating with a smile on my face.
If I had to bring some chicks along with me for urban, I would no doubt bring Jess Kimura, Keri Herman, Eva Patchi & Meg Olenick!
Whats your top 3 most played songs in itunes at the moment? And don't lie! - P3t3r
I'm not gonna lie, right now it's; Koshens: Different, Consequence Ft Kanye West: The good The bad The Ugly, Boog Brown: UPS
What sites do you visit the most other than Newschoolers? - P3t3r
Facebook -- it's nice to catch up with everyone!
Do you smoke weed while skiing? - P3t3r
No, don't smoke while skiing & never did -- all I need is some good music & friends!
And finally, how do you like your coffee? - P3t3r
I like my coffee with a little milk in it... sometimes just black if it's really good.
What do I have to do to get a date with you? - bztruk
I don't like dates... It's not to be rude or anything, it's just that formal dates are not for me. I like to hangout with people & if it happens it happens. Nothing planned and just go with the flow.
Would you ski a mogul line and backflip a large kicker in just your birthday suit in honour of Shane McConkey's life? (And release footage of it?) - HWW
I would love to do it if I felt comfortable with backflips on skis! I mean... doing a backflip is like riding a bike for me, I can do them so easily on the ground, tramps and off anything but on skis it's a whole different story! So... Rest in Peace Shane, I have maad respect for you!
Would you rather have different jumps and courses for womens and mens comps? Or all use the same ones? - Magnus
You know, that's always been a complicated question but my personal opinion is that we do need a different course.
If you had to stick to one thing for the rest of your skiing career, what would it be, rails or jumps? - Magnus
Oh Boy, tough question but I would go with jumps. The feeling of jumping is just better.
Who would you most like to shoot with? - Magnus
The Inspired crew.
http://www.newschoolers.com/watch/646050.0/Maad-Maude--3
Do you think women's slopestyle would be more popular amongst the general public if competitions included swimsuit and evening wear sections with the winner receiving a tiara and the title of Miss _________? - t_rob
Hahaha, Right!? It would be, but for the wrong reasons... I think what we need is a different course that all the girls can ski to their full potential on... you know... with no holding back to throw bigger tricks. Compared to guys, we don't need bigger and bigger jumps to do doubles and triples. Once the women's side grows we could probably do it.
Have you ever considered porn? - Pussinskiboots
Yes, actually I have. Who hasn't? Come on, what type of question is that! hahahaha
kill-fuck-marry... Henrik Harlaut, Tom Wallisch, Andy Parry. - HP123
If it came down to that choice -- I would marry Henrik, I mean, who wouldn't wake up to someone that's stoked for the rest of their lives? And I wouldn't fuck or marry Tom or Andy.
After a couple of injuries that would slow down others or force them to retire from professional skiing, what is it that drives you and keeps you coming back for more? - chrislogan
It's the love I have for the sport, it's a passion, it's the feeling when I jump, rail, turn... Injuries are tough, they do it take it away for a while, but to go through that time off all you think of is skiing, so trust me, you wan't it bad!!!
What is your opinion on "the ratchets?" Also, do you consider yourself to be one? - elinde
I have no opinion of ratchets... People are who they wan't to be and if they are happy, so be it. And no, I don't consider myself one.
What do you inspire yourself for your riding? - beaupress
My feelings with my skiing, the clothes I wear & how I feel in them, my friends, music -- they all inspire me. That and Newschoolers ski edits... and people who are just stoked on life / skiing.
What keeps you motivated during the off-season and what helps you get ready for the upcoming ski season? - jlglt_518
To get ready I workout a ton with trainers to get in shape. I bike, I eat healthy, I watch ski & snowboard edits, I enjoy my family & homies and I get mad stoked on planning my winter!
Why do you think there is such a large gap between men's and woman's skiing and what do you think can be done about it? - broto
In every sport there is a gap between men and women -- and that's normal. Our sport is pretty new and there is not a lot of girls yet... The field may be smaller, but every year there are more and more girls doing it!
Photo: Charlie Bolte