Mario Cart ain't got nothin on Skatie...
Katie Neilson is currently traveling in Columbia, she recently rekindled an old flame... Greetings from Bogota!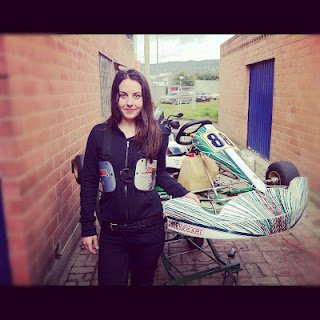 Missing Danger Bay was a bit of a bummer initially, but after killing it for 2 practice days I was offered the service of the mechanics and inscription to be able to participate on Race Day in the Masters Class. These things are probably doing a solid buck down the straight away, but the speed is definitely more noticeable in the tight corner sections, as it has the same power to weight ratio as an indy car and you move between those turns quuuuickly. Needless to say, THIS is where I got my aggressive style from on a skateboard. - Katie Neilson Check out some of Katie's Laps...