Marcus Caston Overall Rhalves? Banzai Winner!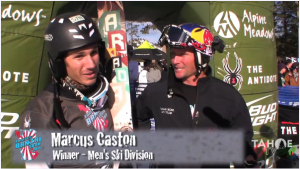 Slytech Shredder Marcus Caston won the Overall Skier title for the 2010/2011 Rhalves Banzai Competition. That's a quite a feat when you check out the deep line-up of skiers. Ultimately, taking Beaver and Eagle Bowls was enough to secure the overall win and buncha cash. Congratulations, Marcus!
For anyone not familiar with the format of the Banzai contests this year, just take a look at this video taken from Sugar Bowl just a few weekends ago. With so much carnage, you'd better be wearing protection!
mobilerider.embedVideo(427, 38777 ,'', 640, 360, 'osmf', {extras:'skin:tahoetv,muteOn:,autoplay:0,autohide:1'});