LAST WEEKEND OF THE 2011 2012 SEASON!
WE HAVE BIG EVENTS PLANNED FOR THIS WEEKEND!The thunderstorm Thursday night into Friday morning took it's toll on our snow but with two of the seasons biggest events planned for this weekend we have decided to take on Mother Nature and show her we won't back down easy!Brimacombe's CRACK THE VAULT CHALLENGE terrain park competition, and the PUDDLE JUMP are still planned to go ahead! We will however be operating on greatly reduced terrain.We'll take it day by day...so here is the plan for Saturday MARCH 17, 2012.9am to 4:30pm Bunny Blvd. Standard, and Bambi. Serviced by the Standard Chair and Magic Carpet. The Main Terrain park will be closed for public use due to the Competition, however you can register to take part in the comp or join us as a spectator!DRESS IN GREEN FOR ST.PATTY'S DAY!ALL LIFT TICKETS ARE JUST $20! JOIN US AS WE WRAP UP THE 2011 2012 SEASON!***The season may be winding down but we still have some fun and exciting events on the horizon!
OAKLEY PRESENTS...Brimacombe?s 2012 CRACK THE VAULT CHALLENGESATURDAY MARCH 17, 2012Brimacombe is proud to present the first ever "Crack the Vault Challenge" brought to you by Oakley, 686 and Rome.The Run DownRegistration and Sign-in starts at 9:00 day of the compRegistration and Sign-in ends at 11:00 day of the compMandatory Riders Meeting @ 11:15 in the middle of the parkComp starts at 11:30 with jam session1 hour jam sessionQualifiers will begin at 1:30Finals will begin at 3:00Big prizes and awards will follow including CASH, a ROME SNOWBOARD and BINDINGS, OAKLEY GOGGLES AND MORE!Comp FormatOne hour Jam Session (controlled drop-ins)Riders will be scored on the tricks they can throw down, biggest tricks stomped puts you in the finalsSkier 13-17 years old and Skier 18 and over categories and snowboard 13-17 years and 18 and over categoriesFemale Open Ski and SnowboardAwards for top three finishers and best trick in each divisionPark passes are requiredRiders must be 13 years of age or olderEntry$40 for Competition and Competition Lift pass (Standard Chair Only pass to access the Park)/Competition registrationBrimacombe members pay only $30 for Competition registration$50 Park pass/Competition Lift Pass/Competition RegistrationAll events are weather dependent, please check our website or call our snow line (905)983-7669 before heading out.***END THE SEASON WITH A SPLASH!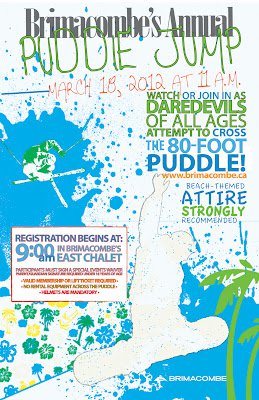 REGISTRATION BEGINS AT 9am AT THE MAIN OFFICE INSIDE THE EAST CHALETALL PARTICIPANTS MUST OBTAIN AND WEAR A WRIST BAND.Non-Members will be required to complete and sign a Special Events Waiver at time of registration. All those under 18 years of age must have a parent or legal guardian sign their Special Events Waiver for them. EVENT BEGINS AT 11am at "LAKE BRIMACOMBE" in front of the EAST CHALETHELMET'S ARE MANDATORYRENTAL EQUIPMENT IS NOT PERMITTED ACROSS THE PONDBEACH ATTIRE STRONGLY RECOMMENDED - COSTUMES ENCOURAGED!PRIZES GIVEN AWAY RANDOMLY?***SEASON END BLOWOUT! 50% OFF EVERYTHING IN-STOREIf you've been waiting for the perfect time to buy some new ski or snowboard gear, this is it! Enjoy savings of 50% off on everything in-store including skis, snowboards, poles, underwear, outerwear and much more!Only at Brimacombe's Slopeside Retail Store.SAVE!50% on Skis, Snowboards, Bindings & Poles!50% on Jackets, Pants, Long Underwear & Gloves!50% on EVERYTHING!!!Brimacombe's Slopeside Retail Store via Gate 4, 4098 Durham Road 9, Oronop: (905) 983-7669 ext. 226e: slopeside@brimacombe.caPlease note: Discounts cannot be combined with any other offers.All discounts based on Manufacturers Suggested Retail Price (MSL)***We've been taunted by Mother Nature all year long, but all things considered we have had some GREAT ski and snowboarding conditions at the Brim! We thank everyone for your patronage, understanding and loyalty and hope to see many of you out this weekend to take in some sun and enjoy the activities.A weekend in paradise awaits,Cheers,Mark