Jib Academy goes International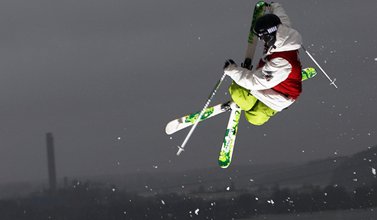 That's right, it's a news article in another language! I if anyone in Sweden wants to translate it for us, we'll send you an NS bandana and sticker pack; until then, enjoy the photos, work on your Swedish and keep on the lookout for Jacob Wester's lillasyster to take over skiing! – Ed.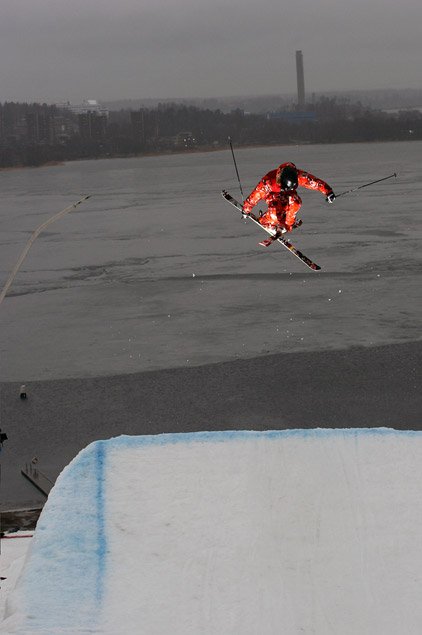 Henrik Harlaut vidare till den internationella finalen i USAEfter fyra kvalserier runtom i Sverige var det slutligen dags för den Nordiska finalen i slopestyle-tävlingen Jib Academy, ute vid Flottbro skidanläggning i Huddinge. Förmiddagens åkning genomfördes i svåra förhållanden med regn och vind, men fram på eftermiddagen kom solen fram och åkarna visade upp en mängd sköna tricks för publiken. Efter två free sessions, där de tävlande tillsammans med coacherna gav allt de hade, utsågs sedan åtta personer som deltog i det avslutande Head-to-head momentet. Bland dessa åtta korades sedan en vinnare, d.v.s. den åkare som visat upp störst talang under dagen, men också utvecklingspotential inför framtiden. Juryn var efter överläggningar eniga om att denna person var Henrik Harlaut.- Henrik har imponerat på alla coacher under såväl kvalet som nu i finalen. Det var grymt hög nivå på åkningen och en hård fight om förstaplatsen, men han kändes ändå som en klart värdig vinnare. Nu är det bara att hålla tummarna för honom i USA, säger John Lönnqvist, turnéledare och speaker på Jib Academy turnén.Dagen avslutades med en stor prisutdelning där Henrik och övriga åkare bland de åtta bästa fick ta emot mängder av schyssta prylar. Första pris innehöll, utöver resan till USA, bl.a. sponsorkontrakt med Salomon och Smith, en livstidsprenumeration på Transition, presentkort från Stadium och en I-shuffle från Recco.Slutresultat Jib Academy 20071. Henrik Harlaut, 16 år Åre2. Kim Boberg, 15 år Älvdalen3. Linus Thornberg, 14 år Kiruna4. Ketil Jansen, 16 år Norge5. Vegard Øye, 16 år Norge6. Niklas Eriksson, 16 Åre7. Sebastian Carlsson, 16 år Kiruna8. Simon Eriksson, 14 år TäbyJonna Wester 12 år Täby, lillasyster till Jacob Wester presterade också väldigt bra i finalen. Jonna fick ett specialpris för att hon var så modig att som ensam tjej köra mot alla killar.