Jeep Downtown Throw Down
The Jeep Downtown Throw Down is back and better then ever for 2012! Located right smack in the middle of the Madison Winter Fest on February 17th-19th. With cash and product prizes from FD Wear for all skill level divisions, this will for sure be an event you do not want to miss! For those of you who could not make last years event at the University of Wisconsin check out the following video, followed by the schedule for this year's event...
Friday, February 17
8pm - 9:30pm - Pro demo for media (This is TBD based on snow and build time)
Saturday, February 18
10am - 12pm - Ski Competition - Beginner/Am
12pm - 3:30pm - Ski Competition - Open/Pro
4pm - 6pm - Snowboard Competition - Beginner/Am
6pm - 9pm - Snowboard Competition - Open/Pro
Sunday, February 19
11am - 3pm - Urban Jib Camp (Pro & Top Am's Coaching)
The Jeep Downtown Throw Down provides an urban ski and snowboard competition right in front of the Capital building. The custom-built event stands 2.5 stories tall complete with rail features to challenge riders of all skill levels. In its third year at the Winter Fest, the Jeep Downtown Throw Down is a festival favorite for riders and spectators a like.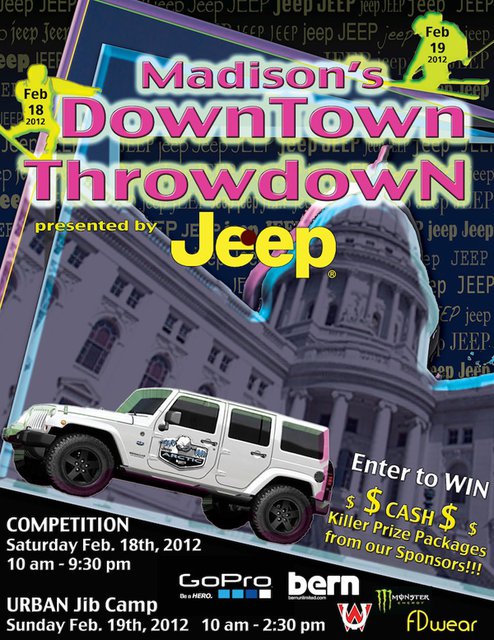 This year the event will offer an open to all skill level ski and snowboard competition on Saturday. On Sunday, festival goers can attend a training camp to learn to ride the rails and other snowboard park features. The event attracts competitors from across the Midwest and brings in a handful of professional athletes to put on demos throughout the weekend.
The Jeep Downtown Throw Down is an event you definitely do not want to miss at the 2012 Madison Winter Festival, so register now before it's too late! Advance online registration for the event is open until Friday, February 17th. Race day registration and bib pick-up is available at the Winter Fest event site (http://www.winter-fest.com) or by clicking here, ending 30 minutes before the event.