JP Auclair and Andreas Fransson Missing In Avalanche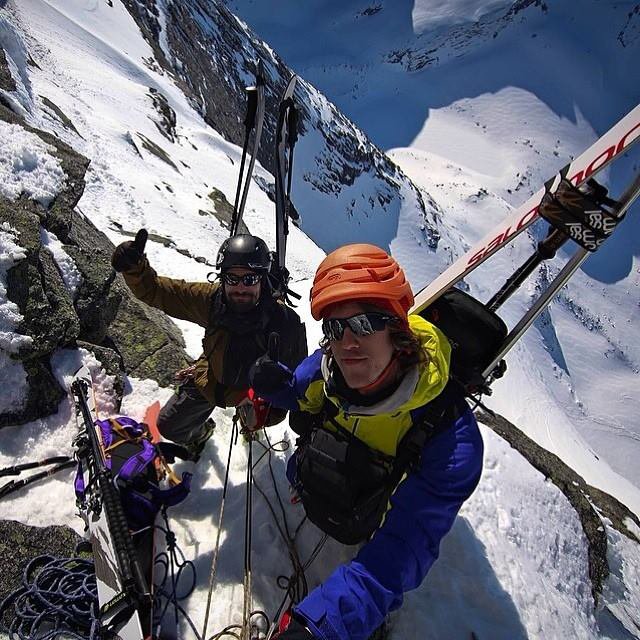 Reports and articles are circulating speculating that JP Auclair and Andreas Fransson have gone missing after an avalanche in Chile. We will continuously update this article with ANY information as it comes in. We pray that this news is simply a rumour and that these two legends of our sport are okay.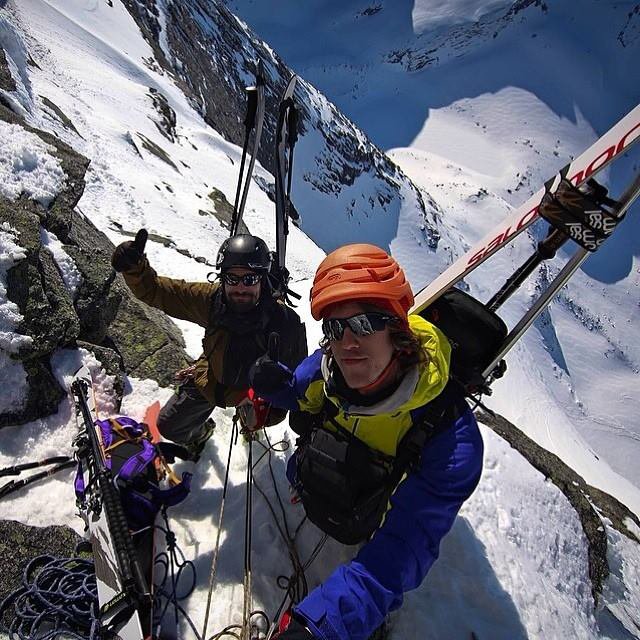 via Trey Cook
I've spoken with Stefan Palm, an instructor in the SBO Svenska Bergsguideorganisationen, who passed me a few details about the tragic accident that claimed the lives of Andreas Fransson and JP Auclair.
What is known is that on 29th Sept at around mid-day in Patagonia, Andreas Fransson and JP Auclair planned to climb and ski the San Lorenzo couloir on Monte San Lorenzo, a 3,706 meter peak on the border of Chile and Argentina in the Patagonian Andes. About two-thirds of the way up, they were swept by a snow release very high above them that carried them about 700 meters down the couloir on to a heavily crevassed glacier.
Filmakers Bjarne Salén and Daniel Rönnbäck were in place to film the descent when they saw the accident happen but were separated by four hours of heavily crevassed terrain. Using their radio, they tried to contact Andreas and JP but there was no answer to their calls. Bjarne and Daniel then used their satellite phone to call Swedish mountain guide Per Ås (in France) and Rolo Garibotti, an Argentine climber who is an authority on the area (currently in Italy) who both advised them to stay put due to the immense and dangerous glacier, cloudy weather, limited time, as well as the difficult situation they were in. Per immediately called his colleague Stefan Palm who has a large network in Chile.
Garibotti then contacted a number of people and by luck Chilean climber Armando Montero happened to be at the trailhead of San Lorenzo, about to start an ascent of the peak. Montero returned to the closest town - Cochrane, Chile - and informed the local authorities. Once the rescue was started Montero and his partner headed back up the mountain, to meet Bjarne and Daniel, whom they met that evening at their base camp.
Stefan Palm also contacted Joaquin Oyarzun, from Heli Ski Guides, a Chilean outfit, to try to organize a helicopter rescue but found that the closest heli was 200 miles away and wouldn't be able to leave unit the next day, 30 Sept.
Fast action by the authorities, police and military ensured that on Tuesday, 30 Sept at 9:00a, a helicopter flew over to the accident site. The helicopter stopped at basecamp and picked up Montero, an experienced guide and mountaineer. Because of the severe terrain the helicopter was unable to land but nevertheless flew quite low and were able to spot both climbers. Both pilot and Montero who were in the heli reported they had no doubt that both skiers were dead and had probably died immediately. A rescue attempt was therefore called off.
Because the accident occurred on the Argentinian side of the mountain the body recovery is now in the hands of the Argentine gendarmerie. On Tuesday morning a team of five Argentine gendarmes set off to try to reach the bodies. Because of the remoteness it is unlikely that a foot mission will succeed, but there is hope to secure a helicopter later today.
I've also received news that Bjarne and Daniel are now safely off the mountain.
Thoughts and prayers go out to the family and many friends of these two beloved skiers. Special thanks go to Armando Montero and his partner, as well as to Alvaro Herrera, the captain of Carabineros of Cochrane, and to the rest of the authorities that have helped so far.
---
Latest JP AUCLAIR & ANDREAS FRANSSON Update, via Felix Rioux --
I'm afraid this may be the end of the story. Although I haven't heard confirmation back from Iannick since an hour or so ago. He's been offline and I'm sure everyone wants to be left alone if this the truth and deal with the news.
I'll still update here once I get final word back.
http://www.cbc.ca/news/canada/montreal/jean-philippe-auclair-quebec-extreme-skier-killed-in-avalanche-1.2783133
---
I've [Felix Rioux] been in contact with Iannick B who's directly in communication with JP's girlfriend and his father. They're the only ones along with Andreas family who have the official info on what is going on.
Here's what we know;
1) A rescue team is getting ready to leave Argentina right now. They wont make it to the site until next morning (wednesday).
2) All death rumours circulating online were made off observations from a helicopter. No one on the ground has been able to physically confirm their status. All they saw were inert bodies.
3) There's still hope, although very small, that their injuries may not have been lethal.
Lets all send positive vibes and hope for the better!
---
Translated via emol.com -- Lifting of dead bodies in Aysén shall be made by Argentina Gendarmerie
This Tuesday after finding dead two foreign tourists who died after an avalanche recorded last Monday on Mount San Lorenzo in Cochrane, border area of ​​Patagonia, prosecutor Jose Moris reported that prison staff from Argentina will proceed to lift those bodies , because the final location of the deceased is recorded in trasandino territory.
The victims, who should then be taken to the city of Rio Gallegos, Santa Cruz province , Argentina , to perform an autopsy on rigor , were identified as Carl Andreas Fransson , 31, from Sweden and Jean Phillipe Auclair , 37, of Canada .
The bodies have not been recovered because it is a border sector.
" The avalanche that took the lives of these people , threw the bodies into Argentine territory. Accordingly , corresponding , according to international protocols , Gendarmerie Argentina is appropriate to remove the bodies ," said attorney Cochrane .
The persecutor added that the coordination with already made ​​Gendarmerie Argentina through Chile Onemi .
"In the case of the unfortunate accident at Mount San Lorenzo , the Office coordinated through Onemi , search efforts , primarily considering that there was collaboration Army , through the Andean Company Cochrane, Gope and helicopter Carabineros , which allowed to locate the bodies , "he said.
In addition , the prosecutor said that " as is foreign victims , a Swede and a Canadian, the Office of Cochrane contacted the International Cooperation Unit of the Prosecutor which in turn made ​​the necessary contacts with consulates to report the situation. "
Regarding the need to inform the police by the tourists who go to remote parts of the Aysen region , Moris said "it is always advisable to inform the police because they get the background of the place where tourists head and they are required to report on entry and exit . "
If the output does not occur by the agreed date , the police started search and rescue protocols .