It ain't started 'til it's really started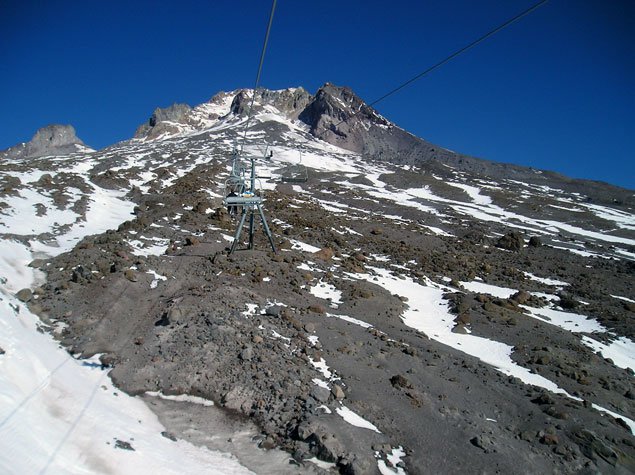 Words by Ethan StonePhotos by Claire SmallwoodOctober is a pivotal month in the calendar for the skier. Summer is definitively over and although winter hasn't officially begun, there's always the chance for that early-season dump that grants precious face shots and guarantees a solid base for the season to come. However, the chances for a barren October are just as good, leaving no options but masking despair underneath a ridiculous costume and drinking away the sorrow during Halloween.For us West Coasters, this fall seems to be one of the latter variety - that is, unless you live close to Mt. Hood, where higher-than-average snowfall last year has kept the lifts at Timberline running not only all summer long, but on weekends throughout the fall as well. Skiing on Palmer Snowfield is open Fridays, Saturdays and Sundays every weekend until the resort's official opening, offering the chance for a few turns even while the forecast for the Northwest remains barren.
After being ceaselessly subjected to photos and stories of early-season dumps in Colorado, a few Portland skiers just couldn't take it anymore, and packed it up to Hood last weekend to kick off the year with whatever we could. Skiing Palmer is a bit like a handjob from an ugly chick: not optimal, but still better than nothing. The snowfield still has surprising coverage considering there's no fresh snow, and there's even enough for a small tabletop, which provided endless entertainment. Aside from the jump, there were countless rocks to jump, bonk, or catch your edge into and get a free ride in the patrol sled.It wasn't Colorado, it wasn't fresh and it wasn't epic on most scales, but it was skiing in October, and in my book, that's good enough. A small crowd of jibbers and snowboarders shook the rust off of their tricks, the everpresent racers got their carve on, and even Eric Pollard showed up to get in a few turns on his Sir Francis Bacons. And like the cherry on top, we headed back to Portland just in time for TGR's Anomaly premiere and Swollen Members concert downtown, while half of Portland paraded around outside in slutty bunny costumes in anticipation of Halloween. So if you're a Pacific Northwest skier still waiting patiently for the goods, don't despair; just use Halloween as an excuse to put on all your ski gear, and make it to Timberline next weekend.