Introducing the Newschoolers Ski!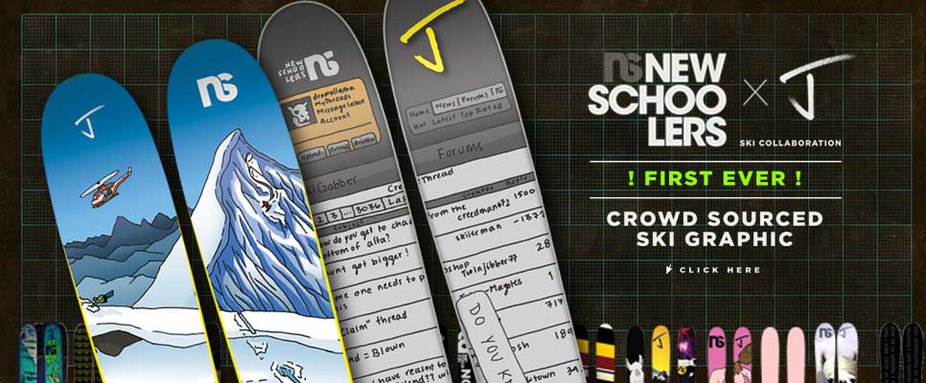 [pulled from Jskis.com]
Newschoolers has done a lot for the sport of skiing over the years & I want to give back by empowering them to create their own ski graphic. This is a collaboration in the truest sense of the word. The job of creating graphics was put 100% in the hands of the 200,000+ Newschoolers.com community members. For weeks they posted ideas & designs, then the community voted for their favorite.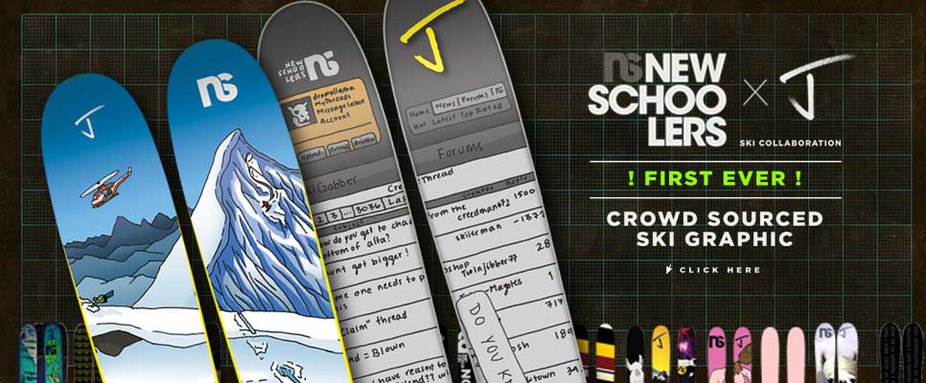 The top choice was created by Gavin Rudy who said, "For the topsheet, I wanted to represent Newschoolers as a community in what we do, so I illustrated a scene of all of the disciplines of freeskiing. I tried to incorporate all of the most popular inside jokes on NS on the base as well." Rudy did such an amazing job, we literally just clicked "print" and blamo! it's now available to buy on a real ski.
I'll only be building 50 pair for this limited edition using my 90 shape. I will be hand signing & numbering each pair. This is the same shape I used for Steve Stepp's Snowboarding is Cool ski because it's the best ski I've ever made for shredding the park and anywhere else on the hill.

Limited Edition: 50pair hand signed & numbered by Jason Levinthal
Lengths cm: 171, 178
Shape mm: 113-90-110
Sidecut Radius m: avg. 20
Boot Mount cm: 2 back from center
Tip Height tip/tail mm: 62 / 62
Rocker Height tip/tail mm: 2 / 2
Rocker Length tip/tail cm: 17 / 17
Rocker + Tip Length tip/tail cm: 28 / 28
View the thread that started it all...