Image Breakdown: Superman!
By: Connor WalbergWhen I set out to capture this shot, I was at the Crankworx Colorado mountain bike festival.  The best part of events like this, is you get to shoot top-tier athletes, hitting the runs in rapid succession.  This affords plenty of time for new angles and trial and error.  Especially when you shoot the practice rounds as well!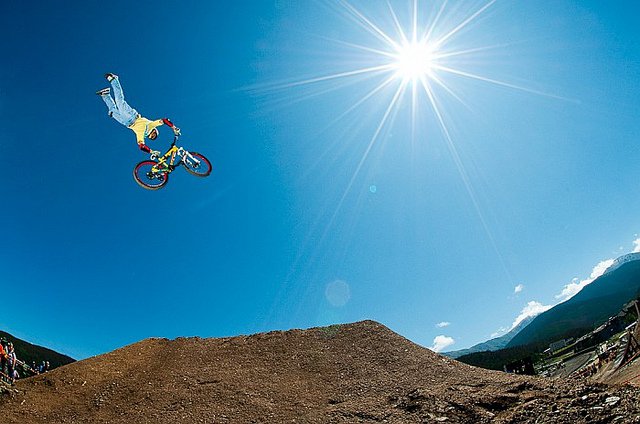 I didn't really need to show the takeoff, since I wanted to give the impression of flying, and capture a starred-out sun.  The takeoff looked great as well, but when I stepped back that far, it made the athlete too small in the shot to look good. I choose a fisheye to get more distortion on the image, while capturing the sun.  With fisheye's it really is best to get in close!Since I was shooting into the sun on this shot, I set my camera to f/16 to really turn it into a star.  The smaller the aperture, the more of a star you'll get from the sun.  However, the less light will be let into the lens.  This is why you'll need to compensate a bit with your ISO.  Usually around ISO 640-800 will get the job done.  Here's an article on how to get perfect sun stars.I didn't want the athlete to be in the center of the shot because that creates a less dynamic look.  So I stepped off to the side of the jump, and framed so that he would be coming into the top right corner.  I didn't know at the time he would throw a superman seatgrab (trick), but that's what made the shot in the end!To compensate for the small aperture, I added a flash to really show off the athlete, and still retain a nice blue sky and solid sun star.  I placed an AlienBee B1600 directly under the middle of the jump, and raised it up a bit.  The closer you get a flash in, the more power you get from it.  This would have also worked with 2 smaller flash units triggered at the same time from under the jump.  For triggering I used PocketWizard Plus II Radio Transceivers and set the flash at half power.In the end, with events like this, it all comes down to being in the right place, at the right time, and with the right angle.  When the star's line up, you'll get an amazing image!  Just don't be afraid to move around from time to time if other angles aren't working as well.