Image Breakdown: Biker Dual Slalom
This summer I was fortunate to shoot Crankworx Colorado in Winter Park, CO for the 2nd year in a row and capture some of my best images.The event is very exciting and features some of the most extreme mountain biking, and most talented riders in the world.  The big show here is the Slopestyle event which involves riders doing back flips, spins, and front flips over massive jumps and features.  However, the dual slalom race is often overlooked, but holds plenty of exciting and tense moments.In a dual slalom, athletes race down a course head to head that is full of jumps, extremely tight turns, and rollers.  It's a very quick race that usually takes under 1 minute per race, creating a very fast-paced working environment.  My approach was to set up a flash to fill in the athletes faces, and I really wanted a shot that showed both competitors at speed.  This is actually tough to get on some features since both courses and athletes roll at different speeds.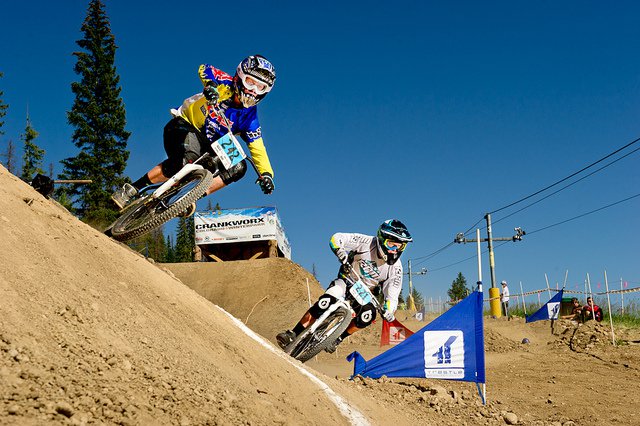 With a bit of patience, I was finally able to capture two athletes head-to-head.  I also included the banner as a reference for the race and so the resort could use it for advertising purposes.  I knew that the berm would make a great contrast to the athletes, so I went fairly far away and used a telephoto to compress the feature.  I also framed to keep the top athlete off to the side and create a more dynamic image.The flash was located to the right and about 15 feet in front of the athletes.  In events like this it's quite tough to get it lined up perfectly.  Again, I waited and re-positioned the flash time and time again to get both athletes evenly lit.  This is where two flashes would seem to make more sense, but when you get two flashes, it's even easier to mess up the shot by having one too close to an athlete, and blowing them out.For a flash I used an Alienbees B1600, set to half power.  This was triggered using a pocketwizard Flex TT5 on camera, with a plus II transceiver on the flash.  The pocketwizard was set in hypersync mode, enabling amazingly fast shutter sync speeds.  This image was captured at 1/1250th second, and I got some more depth by shooting at f/9 since I was using large studio strobes.With all of the action, it's tough to remember your composition.  Scout features and angles first, perfect composition, set up your flashes, nail your settings, and then work on timing.  Try to frame the action out of the middle, and keep your background de-cluttered to emphasize the athletes.  Shots like this take a lot of patience and re-dos.  Don't worry if you don't nail it right away.  You're better off staying put and getting the shot your really want, than moving away due to impatience and settling for something less!