Georgian College Jibfest!
Words and video by Tom Hubrecht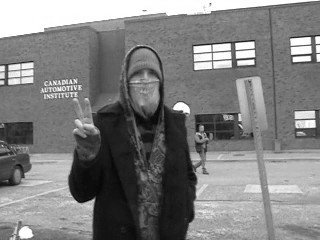 Hey NSers, Iím writing to tell you all about how the annual Jibfest competition in Barrie, Ontario went down on October 27, 2006. If you havenít already heard of it or been there, itís a jam that the ski resort operation students
of Georgian College put on every year in conjunction with Blue Mountain
and a whole host of other sponsors. It always draws in a lot of the old
regulars, exposes some of the up-and-coming talent in the area, and
certainly never fails to be one of the most rockín ways to kick off the
season with some premature jibulation.
The day started early with eager riders lining up for wildcard registration slots (if invited riders fail to show) around 5am. The comp got started around 10:30, and all the riders came out hard. In
the morning the lip on seemed to be causing a lot of trouble, but the
riders all pushed it and came out with some impressive lip 270s, switch
ups, etc etcÖ The setup was changed a little for the finals, allowing those who made it through the first round to really show of some skills.
 
Sorry for the lack of pictures but I hope this video gets you stoked for the up and coming season!
 
First place was Tom Dolezel, second going to Jaime (sorry didnít catch your last name), and third was Jon Harris.
 
The
riding this year was top notch with too many people killing so hard
that I canít possibly give a shout out to them all! But donít take my
word for it; I hope to see you all out there next year, and in the mean
time we can throw it down on the slopes!Watch the video (.wmv)