From the Archives: Q&A with FREEZE's Micah Abrams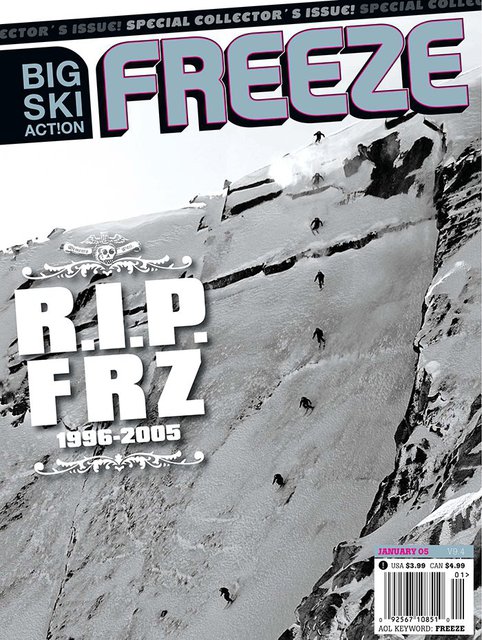 [Editor's note: This is a transcript from an email chain between Micah Abrams and Chris O'Connell back in November of 2004. This Q&A was originally going to be run as a much larger piece about FREEZE, but never got completed and never saw the light of day. Questions & queries can be added in the comment section, or I can be contact directly at Mousseau@Newschoolers.com]
Photos pulled from FREEZE's facebook page
---
Can you give us a brief history of your involvement with FREEZE?
I sent Mike Jaquet a resume in January of 1997, when i was entering my last semester at the Colorado College and looking for a job writing for a ski magazine or ski town newspaper. The premier issue of FREEZE had just hit stands, and, of the 28 resumes I sent out, Jaquet was the only person to call me back. He was planning the magazine's first-ever party at the Crested Butte Extremes, and needed someone to drive a band from the Colorado Springs airport, six hours through the mountains to the Butte, and back without killing them. Because my college was in Colorado Springs (and probably for no other reason), Jaquet called me, told me if I completed the mission successfully, he might hire me. I did, he did, and I moved to Boulder four days after graduating just as FREEZE was setting up shop in the offices of Mountain Sports Media, which was funding the magazine's first full volume.
By December of 1999, I had more or less been editing the magazine for three full volumes--there was an editor before me, but he was part time. Over those volumes, FREEZE developed its editorial voice, assembled a full staff, helped introduce the New Canadian Air Force to the world, launched the Freeskiing Open, and went from four issues a year to six. It was an awesome ride, but after my fourth knee surgery, with some serious reservations about continuing to chase pros around all winter, and a lucrative offer at a new dot com in LA, I bailed out.
I pretty much missed the winter of 99/00, but by the time the magazines were being produced in the fall of 00, my dot com fiasco was over and I was freelance writing full time. Jaquet called me and assigned a few pieces my way, and I became the magazine's senior contributing writer for the next two years. In the fall of 02, Jaquet was promoted to Director of Marketing and Business development at TransWorld (which has the same parent company as Mountain Sports Media), and he orchestrated a move for the magazine as well. Since I was nearby in LA, he offered me the editor in chief position, which I took and, along with Ashley Otte (director of sales), began running the magazine and overseeing its transition from Boulder to TransWorld.
To your knowledge, what were the circumstances surrounding the decision to end the publication?
For the first full year that FREEZE was at TransWorld, the senior management of the company was in flux. We pretty much flew under the radar until last spring (May, I think), when Brad McDonald was named group publisher for every magazine TransWorld produces (Skateboarding, Snowboarding, Surf, RideBMX, BMX, Motocross, Business). In selecting Brad, our corporate president (Mark Ford, head of Time4, a division of Time, Inc., which is the magazine division of Time Warner) sort of snubbed a guy named Al Crolius, who was VP of Sales and Marketing at TransWorld, used to by head of sales at Mountain Sports Media, and a close friend of the magazine.
It was clear from the beginning that Brad wasn't a huge fan of FREEZE, primarily because the magazine had a flat circulation for about three years. Without going into specific numbers (all magazines guard their real, honest to god circulation like nuclear secrets), FREEZE's circulation was small enough that Brad determined our potential market (the freeskiing population, primarily between the ages of 12 to 24) was very small and probably not growing. In conversations between Brad, Ashley, and myself, we agreed that the circulation needed to grow, and Ashley and I expected to be given two full volumes of magazines to prove that our market was viable and that, with some changes to the editorial product and a grassroots circulation effort, the circulation would grow. Despite Brad's dispassionate assessment and complete lack of knowledge of freeskiing and its market potential, Ashley and I assumed that, so long as the magazine was making money (which it was), we would be left to prove the viability of FREEZE.
Two weeks ago, Brad shut down the magazine. His reasons were what we expected: the circ was too small and he didn't believe it could grow. The obvious question is, if we all knew the circ needed to grow, why weren't we given an opportunity to grow it? Circulation research is such that Brad didn't even have an opportunity to see how the first few issues of the season were doing, so he basically killed the magazine without giving us a chance.
From here, everything is speculation about corporate politics. Brad has a very difficult task as the group publisher at TransWorld, in that he's responsible for improving the overall margin of the company rather dramatically in a short period of time. One easy way to make ground on that goal is to shed overhead and the decision to kill FREEZE was made alongside the decision to fire both Jaquet and Al Crolius--two senior members of the company who disagreed with Brad on several "big picture" issues facing TransWorld. Since Jaquet and Crolius were the only two senior positions who fully supported FREEZE at TransWorld, it's possible that we were simply lumped in with them in a cost-cutting move.
There are even murkier political power play scenarios that aren't worth going into in detail. At the end of the day, FREEZE had a circulation challenge in front of it, and a group publisher who didn't believe in the magazine's audience as a viable market. There is no real answer to the question of "why now?", but I believe that Brad's mind was made up to end the magazine pretty early in his tenure as Group Publisher.
Is it standard to end a publication in the middle of it's production cycle?
Remember that FREEZE is one magazine within a division of a division of a division of Time Warner--the largest media company in the world. When people in senior positions in large corporations like this are put in a position to cut costs dramatically and a property as small as FREEZE comes within their sights, there is very little consideration given to where the property currently is in its business life. They simply swing the axe, re-tally the numbers on the spread sheet, and move on.
Does the decision to end FREEZE say anything to you about the strength of the freeskiing market?
Well, it's important to ask the question: if the freeskiing market is growing with any real potential, why was the (largely undisputed) best magazine for freeskiers not seeing that growth in our circulation? One very real possibility is that this market is smaller and less vital than any of us would like to admit.
However, it's not nearly that simple. It's possible that FREEZE's circulation wasn't growing because we received absolutely no circulation attention from our parent company for three straight years, and no magazine can grow without help from a competent circulation effort. Still, every one of us in this business has more anecdotal evidence that the sport is blowing up than we can count--terrain parks are full of skiers, summer camps are selling out, the US Open sells out in hours, young kids are choosing to ski instead of snowboard, and on and on. So, again, why wasn't this growth reflected in FREEZE's circulation?
Ultimately, I believe FREEZE's lack of growth has less to do with the freeski market and more to do with HOW the freeski market USES media: put simply, people in our target demographic (12 to 24) just don't use magazines like older people do. But don't take it from me--the circ numbers for every magazine that I know of in this demographic, from TransWorld Skateboarding to Seventeen Magazine, are dismal. It just seems like a reality of a new media age that, with eight good to great ski movies available every year, websites like Newschoolers providing focal points for the freeskiing community, and much of FREEZE's best content available for free at our website, the whole impetus for subscribing to a magazine for kids in this market is slowly going away.
This gets into a fairly bland discussion about the changing media landscape and blah blah blah. By way of an anecdotal explanation, consider this: Throughout the 80's and 90's, magazines like FREEZE, which are photo driven and retain the services of many photographers each year, would turn over their photo staffs every few years because the older, more established guys would move on to better paying gigs and there was plenty of raw talent waiting to take their place.
At FREEZE, we realized about four years ago that there wasn't really a groundswell of young photo talent waiting to take our senior guys' place in a few years. It was crazy--we couldn't come up with more than a few guys in their late teens and early twenties who were dedicated to shooting skiing. Eventually, we realized the explanation: every kid who SHOULD have been the next Flip McCririck or Chris O'Connell didn't blow their Christmas money on a Nikon F1... they blew their cash on a video camera. They all want to be the next Johnny Decesare or Steve Winter. This same trend is visible from the written angle as well. I receive all sorts of interest from potential writers and editors at the magazine--but they're all from people in their mid to late 20's. Young skiers don't seem that interested in being a magazine editor anymore...not when they can get hands-on experience as a filmmaker in their own bedrooms for the price of a Christmas and birthday present.
So, finally, to answer your question: I think the freeskiing market is great. I think there's a real possibility that the freeskiing magazine market is fucked.
How has your experience with FREEZE and TransWorld changed your view of corporate ownership in the ski business?
Oddly enough, it hasn't changed my opinion at all. FREEZE never would have achieved all that we did without corporate ownership. At the end of the day, the magazine was killed not so much because we were part of a huge corporation with a stoic obsession with the bottom line. We were killed because one cog in that corporate wheel didn't believe in us. Replace Brad McDonald with a TransWorld group publisher who's a passionate skier or snowboarder and understands that winter sports industry and ... who knows? Maybe we're given those two full volumes to prove ourself, the readership responds to our circ efforts and editorial improvements, and we all live happily ever after. Every business--even little, idealistic independent ski manufacturers--HAS to have a stoic obsession with the bottom line. that's how business works. Large corporations are easy targets, but, again, it was a large corporation that saw in FREEZE real potential and allowed us to thrive for eight years.
At the end of the day, if the argument for independent ski magazines is Freeskier, I'll take corporate ownership any day of the week.
[sic]