Exporting With Adobe Lightroom
Once you have an image edited just the way you like it, it's time to export and share it with the rest of the world.  There are a couple ways to do this, but first we are going to start with web sizing it so that you can display the image on your site, and  send it to friends without making the e-mail WAYYY to big!The export feature is a huge time saver.  With it, you can re-size and save as many images in specific formats, as you like to a specific file in no time!  Plus, you won't have to open every single image in photoshop!  It's one of the slickest features in Lightroom, and one that you will quickly become reliant on.First, make sure that you are in the "library" module.  Then, right next to the Import button in the bottom left corner you are going to find the "Export" button.  Before pressing this, make sure you have the image/images selected that you would like to export.  Then click the "Export" button, or you can right click on an image and choose "export" in the pop-up menu.  There are a bunch of different options in the export dialogue, allowing you to create custom presets to make things even faster, or use plug-ins for facebook, flickr etc. to get your newest images online in a snap!Custom presets are created by first choosing all the settings you like, then clicking "add" in the bottom left corner.  Title the preset, and all the options you checked will be saved as that preset.  After that, you can simply click the preset on the left and the options will automatically be configured to your "preset" settings.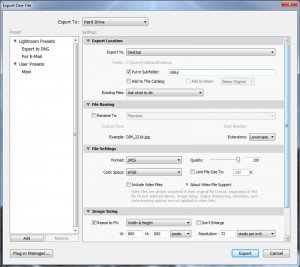 There are a LOT of options in the export panel, and it can be overwhelming at first.  We are going to cover the most important options, starting with "Export Location" which is the first tab.  It is pretty self explanatory,  just specify where you want Lightroom to save your files.  The second one is "File Settings" which is probably one of the most important.  Depending on your needs you can export the file as TIFF, DNG, PSD, Original or JPEG (most common).  The rest of the options in this tab will look different depending on the file format you select.  When we export for the internet, we choose JPEG as the file format, in the sRGB color space with a quality around 65.  Choosing the preset on the left labeled "For E-Mail" will do roughly the same settings, but let's take a look at the rest of the panel just to understand what it's doing!The next tab is "Image Size".   This controls what size the image/images will be exported at.  Exporting images for the net requires you to size them down, and we usually go with 800×600 or smaller, this speeds up load times, and makes the image less usable for internet image thieves.  When you have the "Width & Height" option selected it will restrict the long side of a horizontal image to 800px.  If it's a vertical photo, it will restrict the Height to 600px.  You can change these settings by typing in your own numbers.  We really like the "long side" option since it's a bit easier to understand.  WIth that option, simply enter your size and the long side will automatically be re-sized to that size with the short side sized down accordingly.  If you are exporting for a client or magazine as high-resolution images, un-check "Resize to fit" so you can maintain the maximum resolution for your images.Finally, we have the sharpen setting.  This controls how much sharpening the export process adds, and if you have not sharpened the image in photoshop first, select this setting and typically keep it at "normal."  If you have already applied enough sharpening to an image, simply uncheck the "sharpen" box or choose the "low" setting to apply just a touch more sharpening.Once you learn your way around the Lightroom Export module, you'll never want to re-size an image in photoshop again.  We often edit images in photoshop and then press "save," which automatically saves an edited copy in Lightroom.  From there we will export the image for many different needs.