Dumont Cup 2011: Results!
The Dumont Cup was always going to be a tricky event to win after the weather started playing up but it was never going to stop these guys from throwing themselves off the biggest kickers, performing the most stylish tricks you could ever think of. It was Nick Goepper that took the win this year and he definitely deserved it after narrowly missing out on the podium last year. He was followed by Gus Kenworthy in second and Jacob Wester in third.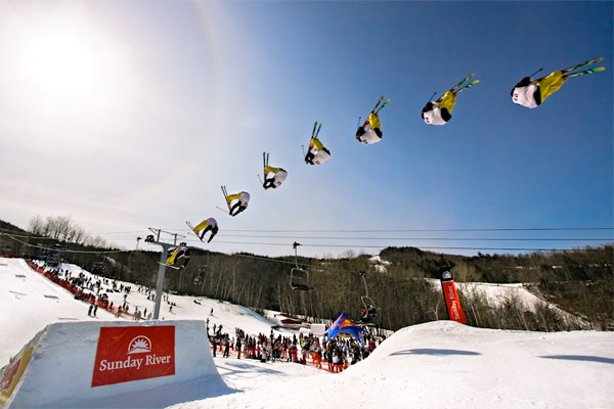 Out of 40 riders in the semi finals only twelve athletes moved on, including the man himself, Simon Dumont. Jossi Wells, Chris Laker, Willie Borm, Phil Casabon Nick Goepper, Gus Kenworthy and Jacob Wester were just a few of the big names. The final runs were joined by bad weather and a lot of the main riders were knocked out straight away but that didn't stop the others from landing some pretty special moves. Here's the top 3 runs:Nick Goepper – 270 on to the whoopdie box, into K-Fed (front switchup to blind 270) on the flat-down rail to a misty 630 off the cannon box. His first jump was a leftside cork 900 tail into a switch double rodeo 900 japan on the second jump. He finished the run off with a double cork 1080 mute.Gus Kenworthy – Kenny G. got it going with a 270 on 450 off on the whoopdie box, 450 on to 270 off on the flat-down rail, and a cork 630 blunt off the cannon. His first jump was a rightside 900 blunt. Switch left 900 lead tail on the second jump into a double cork 1260 mute on the final jump.Jacob Wester – Jacob started with a 270 on to forward on the first box, went with a 270 disaster to forward off on the next rail to blind cork 630 off the cannon. Down below he started with a leftside 900 mute, switch 900 tail to double cork 1260 mute.Final results: 1. Nick Goepper ? 92.40 2. Gus Kenworthy ? 90.00 3. Jacob Wester ? 87.60 4. Charles Gagnier ? 83.80 5. Phil Casabon ? 83.00 6. Tom Wallisch ? 82.60 7. Simon Dumont ? 75.00 8. Willie Borm ? 67.20 9. Joss Christensen ? 61.80 10. Brian Kish ? 60.60 11. Jossi Wells ? 45.00 12. Vincent Gagnier ? 40.00 13. Chris Laker ? 40.00 14. Peter Engen ? 27.40 15. Antoine Choquette ? 19.00 16. Alex Schlopy ? DNSRelated posts:Salomon – Dumont As you'd expect from Simon Dumont's pro model, this...Dumont V Russell Tim Russell and Simon Dumont face-off in the keystone park...2010 Dumont Cup If you didn't manage to get along to the Dumont...