Dew Tour Comes To Canada With First-Ever Dew Tour AM Series, Fuelled by Mountain Dew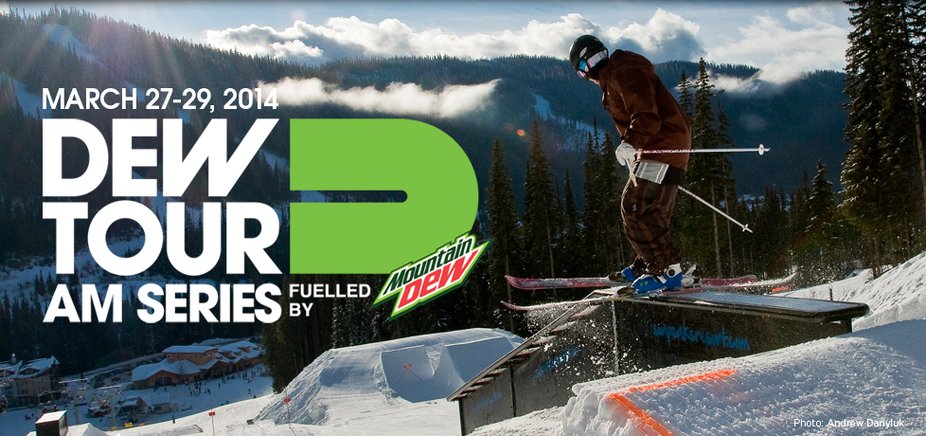 Sun Peaks Resort in BC will play host to the first-ever Canadian Dew Tour AM Series (DTAS), Canada's premier amateur ski and snowboard slopestyle event, from March 27-29, 2014, as amateur male and female athletes battle it out. DTAS is focused on recognizing and rewarding top amateur athletes with a cash purse of $20,000 CAD amongst Men and Women equally, as well as a VIP trip to the Dew Tour in Breckenridge, Colorado for all of our 1st place finishers.
The AM Series competition is open to amateur male and female ski and snowboard athletes who reside in North America and are looking to elevate their status and recognition in Canada. There will be 80 Qualifier spots for both ski and snowboard athletes, and the top 10 men and top 5 women per sport will advance to the Finals and join 10 invited men and 5 invited women respectively – for a total of 20 male and 10 female finalists per sport.
There will also be a Rail Jam open to boys and girls 13 to 16 for both Snowboard and Ski. The Rail Jam is designed for younger beginner/intermediate snowboard and skin athletes seeking to gain competitive experience.
"The Dew Tour AM Series aims to create a globally recognized ski and snowboard event that is equally action-packed on the slopes and in the host village," said Ryan Collis, Director of Marketing for the Mountain Dew brand in Canada. The two-day event will be supported by a variety of activities, including experiential sampling, on-the-spot prizing, live DJs and a free outdoor concert featuring the Juno-award-winning rock band The Sheepdogs."
As the tour progresses and the AM Series event unfolds, the Dew team will capture and share Dew Nation content via social media platforms.
Prizing
$20,000 CAD prize money will be distributed evenly amongst snowboard and ski disciplines, and the Top 3 men and women will receive equal prize money. First place men and women snowboard and ski winners will each receive $2,500; second place will receive $1,500, and third place will receive $1,000.
The Course
The slope style course will feature 3 Rail Features and 3 Jump Features. The Rail Features will be located at the top of the course and will have two options of rails of varying difficulty to select.
Judging
AFP will supply Silver accredited judges for ski, and World Snowboard Tour will supply 4-star accredited judges for snowboard.