"Days of My Youth" Premieres To Hundreds of Fans in Boulder, Colorado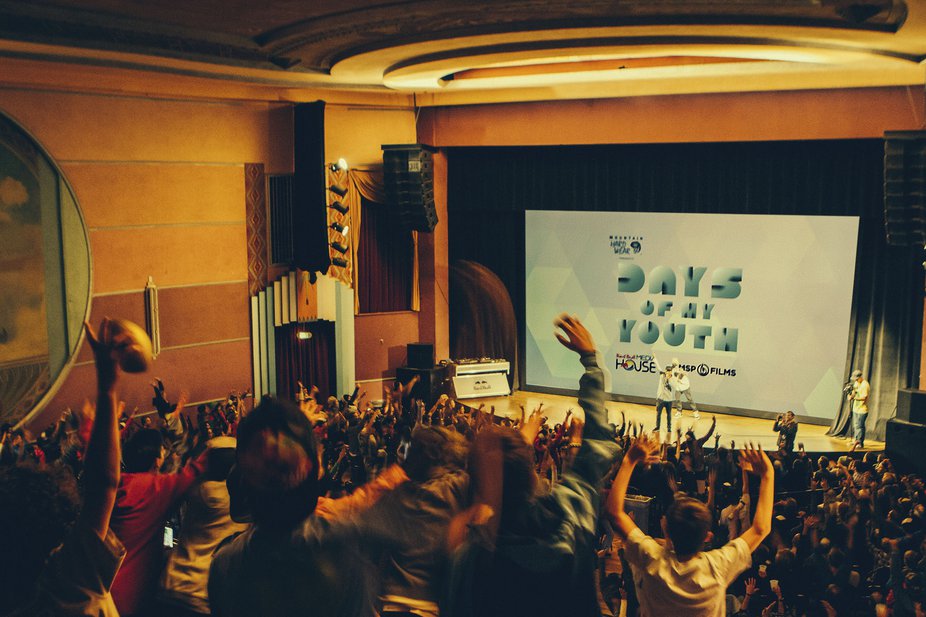 Article provided by Red Bull.
An excited crowd filled the Boulder Theater in Boulder, Colorado, on Friday night for the world premiere of "DAYS OF MY YOUTH," a new action-packed feature ski film produced by Red Bull Media House in association with MSP Films.
http://www.newschoolers.com/videos/watch/676532/Days-of-My-Youth---Official-Trailer
Many of the film's featured athletes were in attendance at the world premiere, including Bobby Brown, Richard Permin, Cody Townsend, James Heim, Banks Gilberti, Chris Davenport, and Sander Hadley. The film also stars skiers like Michelle Parker, Markus Eder, Mark Abma, Sam Anthamatten, and more.
Hundreds of people lined up outside the door of the historic Boulder Theater in downtown Boulder to watch what many have called the most anticipated ski film of the season. That level of excitement was elevated by this month's early snowfalls dusting the high peaks of the Rocky Mountains, signaling the first sign of the oncoming ski season.
Inside the theater, athletes signed autographs on movie posters for eager fans before the lights dimmed and the movie began to roll. Cheers and applause from the audience throughout the film showed that "DAYS OF MY YOUTH," which was produced over a two-year period instead of the standard one-year timeline traditional with ski movies, was well worth waiting for.
The two-year project was a welcomed new concept for the filmmakers. "We were able to take a lot of time discussing what we wanted to accomplish and say with this particular film, and really identify a story we felt represented skiing in a fresh and accurate way," says Scotty Bradfield, Executive Producer of Red Bull Media House.
After the film's debut, athletes stood on stage to help raffle off a slew of prizes, including new skis, goggles, and other gear.
Starting now, "DAYS OF MY YOUTH" will embark on an over 80-city global tour, debuting at theaters around North America and Europe over the course of this fall. From San Francisco to Boston, from Vancouver to London, and many stops in between, viewers will get a chance to meet the athletes and filmmakers and experience the action on the big screen, essentially transporting themselves to the mountains of British Columbia, Alaska's Tordrillo Mountains, the Cordillera Blanca, Peru, and beyond. See the movie's full tour schedule at http://www.skimovie.com.
"From a cinematographic standpoint, we used every tool in the arsenal over the last two years to raise the production value to new heights," says MSP Films Producer Mike Hans. "From unique GoPro mounts and unreal Cineflex aerial angles, the viewer will be transported into the action."
Adds Bradfield, "The high-caliber skiing paired with next level production value add up to make a film that will be fun to watch—while sending a message that skiing can keep you young for a lifetime."
A collector's edition DVD, Blu-ray™, and digital download package will be available for order starting October 3, 2014. Watch the trailer, check out the film's tour schedule, pre-order DVDs, and more at http://www.redbull.com/daysofmyyouth.