Coldfront: A Whistler Blackcomb Online FIlm Festival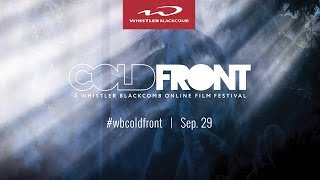 https://www.youtube.com/watch?v=yulZ4Jvg9wE
Six filmmakers. A weekly knock out battle for $10,000.
The crews hand picked their athletes and then had most of the 2013/2014 winter to film their edits. Each edit had to include at least 70% percent content from terrain inside Whistler Blackcomb's ski area boundary, and 30% could be in the backcountry within 100 km's of Whistler, with all of the inbounds footage being shot during regular operating hours. The film crews taking part are:
---
Olliepop Films - Originally from Australia, but now based in Whistler, Olliepop produced the popular "When in Whistler" web series the past three seasons
"Born and bred in a city so far from snow that the freezer was the only thing frozen, it was the call of the mountains in the Victorian Alps of Australia that brought Olliepop Films to the forefront of snowboard film productions.Half a decade later travelling the world to Europe and the USA it was high time that Whistler Blackcomb became home and we've been here ever since. 2014 brought a third season of the web-series 'When In Whistler' which features an awesome mix of park boarding, on hill pow hounding, street rail sliding and backcountry jump sending! When we're not in Whistler chasing snow we're off to find warm beaches with epic right-handed point breaks!"
---
Heart Films - Based in Whistler for the last decade, this Japanese crew
http://www.newschoolers.com/videos/watch/761190/The-Doors
"Our principal filmer/editor - Keiji Tajima - moved from Japan to Whistler over a decade ago to pursue his passion of documenting backcountry adventures through HEART Films. Check out his updates at http://www.heartfilms.com."
---
Geoff Hewat - Part of the Westward crew who won Newschoolers.com's TV Pilot Project in 2012/2013.
http://www.newschoolers.com/membervideo/683065.0/Jordan-Innes---December-Flow-Leftovers?s=155468
"I grew up skiing in Ontario and skied competitively for the Ontario Mogul Team. After high school, I moved to Whistler with a few friends to take up park and pow skiing. We started a web series called 'Westward' which followed a group of Ontario skiers that all shared the same mission: 'Putting Ontario on the Map'. After two successful seasons, 'Westward' won the Newschoolers.com TV Pilot Project, signing us on for our final full-season. I'm now in my third year in Capilano University's 'Motion Picture Arts' Program, continuing to ski and film in Whistler as a weekend warrior."
---
Graeme Meiklejohn - A recent film school grad at UBC Okanagan, Graeme has worked with PYP Productions and Voleurz in the past.
http://www.newschoolers.com/watch/698941.0/Meanwhile-in-Canada
"I was born and raised in the Sea to Sky corridor, but have been attending university in Kelowna for the last four years. Prior to University, I took a year off and moved to Whistler and started to put down roots here, as well as in the ski film community. After producing films under the name PYP with my best friends, I am now doing freelance work both in and out of action sports. However, shooting in Whistler is always a treat."
---
Ryan Kenny & Benjamin Webb - These two talented filmers came together for Coldfront, but individually have worked with Red Bull, Absinthe Films, Poor Boyz Productions, among others.
RK: "I started filming skateboarding and snowboarding in high school, got into film school, graduated and started an internship with Sandbox Films with childhood hero Kevin Sansalone. I then set my roots in Whistler filming with several different companies and traveling the world with my friends. Life's a peach."
BW: "I am a Whistler import, born and bred in Calgary, AB. I moved to Whistler in 2010 and quickly established myself on the scene, winning Rookie of the Year honors with my first ever entry in the 2010 Whistler Heavy Hitting B-Grade Horror Festival. Over the past four years, I have developed skills in the visual arts in the alpine, more often snowmobiling in the backcountry while filming for companies such as Red Bull, Absinthe Films, Voleurz, and Poor Boyz Productions. While my career in film making has taken me all over the world, I love calling Whistler home."
---
Nuulife Cinema - Whistler based crew that has been pumping out Canadian snowboard movies and edits including the new "Wildlife" web series
John Swystun: "Somehow managed to fall in love with snowboarding as a 10 year old in Winnipeg, and it only made sense to wind up in Whistler. Check out our best buds ripping in the WILDLIFE web series."
David Craig: "I moved away to the mountains when I was 18 from my home town Keswick, Ontario and I've never looked back. After learning that Whistler offers all the best of snowboarding, skiing and an unreal lifestyle, I now call it home. It's a wild life we live."
---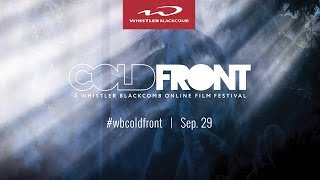 Voting will go live September 29th, with the champion being selected based on online votes on October 27th. By voting online, voters will get the chance to win gear for the year. Please share this trailer through your channels, using the #WBColdfront and if you have any questions or need any additional information at all just let me know.