Camp of Champions Film School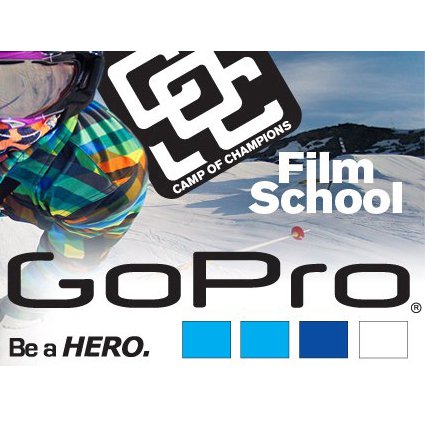 If you want to make your life traveling the world and filming pros doing amazing things, The Camp of Champions has the program for you. Have you ever wondered how GoPro drops such sick edits that leave you stoked and wanting more? Want to know how to get the amazing photos and video that will get you launched in the shred industry as a filmer to the stars? Come to The inaugural Film School at The Camp of Champions presented by GoPro. The first film school that is GoPro specific with the instructors being led by Abe Kislevitz, Senior Production Designer at GoPro.
MAKE THE BEST EDITS
This summer at The Camp of Champions, GoPro's top content creators will be teaching you everything you need to know about how to make the best edits and get the most views. The GoPro Hero3 is the most amazing camera ever made for action sports and this program will have you getting the most out of your GoPro camera and their companion editing program, the newly launched, GoPro Cineform Studio.
SHOOT TOP PROS - OAKLEY AND SKULLCANDY TEAM WEEK
To make sure that you get the best possible footage and photos, we've got Oakley and Skullcandy Team Weeks happening during the GoPro Film School Session so that you'll be filming people like Oakley team members Mark McMorris, Seb Toots, Stale Sandbech and Maxence Parrot on the snowboard side of things, and Callum and Sean Pettit, Logan Pehota and other pros that are still to be announced on the ski side.
The line up of pros that will be at COC from Skullcandy has yet to be finalized, but we will post them as soon as everything is cast in stone. Their team is loaded with heavies. In addition to visiting pros, you will also have unlimited filming access to the COC coaches and campers. The coaching line up at COC is a combination of some of the hottest up and coming pros as well as established superstars. The Canadian, US and Norewegian Slopestyle Teams will be at COC during the GoPro Film School session so the sheer number of pros you will have access to film is second to none.
If Mountain biking is more your thing, or you want to be able to shot all three sports, the Whistler Bike Park with our MTB coaches and campers will be your subjects. The GoPro video of COC coach Mike Montgomery on the bottom right has over 3 million views.
http://www.newschoolers.com/videos/watch/635332/Dub-Fronts-with-Wally-and-Farro
FILM WITH ALL THE GoPro EQUIPMENT AND MOUNTS
GoPro will be supplying a number of cameras and equipment for campers to work with if you don't have your own GoPro. You get the low down on the best ways to use all of it so that you can match the shot in your head with the right equipment to make it happen.
GOOD TIMES MAKE FOR GOOD FILMS
The Film School at COC, presented by GoPro has been designed to be a low pressure, good times environment so that you can learn as much as possible in as short a time as possible. Using GoPro cameras, accessories and Cineform Studio to their fullest potential you'll be learning filming techniques, how to plan, direct, log footage, edit snowboard, ski, mtb and lifestyle videos that people want to see. You'll also learn how to make videos for companies like GoPro, Oakley and Skullcandy. You'll also be taught all-important social media skills to get your video's seen, because if a video drops in the forest of the internet and no one sees it, did it really drop at all?
A WEEK PACKED FULL OF LEARNING
The week at The Film School at COC, presented by GoPro will be packed full of learning, morning workshops, filming most of the day and 2 hour workshops in the evening. The morning workshops will have you learning the techniques to create the different filming possibilities that the GoPro camera allows. In the afternoon you are filming your snowboard or ski vision in the COC Park or your MTB vision in the Whistler Bike Park using pro athletes from GoPro, Oakley and Skullcandy as well as COC's top pro athlete coaches, and fellow campers as your film subjects. After filming in the park almost all day, you'll be filming paintballing, bungee jumping, mini golfing, skateboarding and more. You will shoot and log amazing footage that you can later use to create short "Moments" videos or full on edits. You'll also learn how to work as part of a film crew, sharing ideas and footage, learning how to incorporate it all into your finished project.
MAKE YOUR EDITS SLAY
In the evenings, workshops with Abe, Chris and Caleb will have you learning the ins and outs of how to make your edits slay. With all of Abe, Caleb and Chris's camera, filming and editing knowledge and GoPro's new editing program Cineform Studio for you to use, you will, in no time, be using Cineform Studio to it's fullest as well, so that you'll have a whole new bag of skills to use on your next edit. They will run you through every trick in the book to get your footage looking as beautiful, fun and epic for the viewer as it was for you filming it.
If you've ever wanted to become a filmer in the world of action sports there is no better way to get your start than at The Film School at The Camp of Champions, Presented by GoPro.
Space is limited, so if this sounds like how you want to live your life, register and get ready to start living the dream.

Register here -- http://campofchampions.com/register/