Butterfingered Photographers Being Sued for $300,000 by Art Collector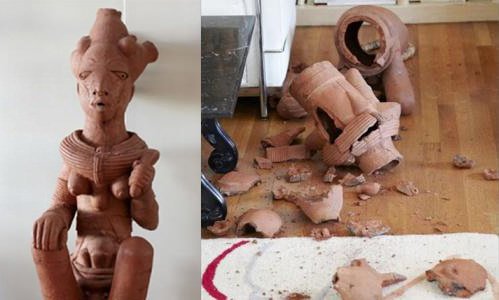 Here's a good example of why photographers should think about carrying liability insurance: Art + Auction magazine is being sued for $300,000 by art collector Corice Amran after its photographers accidentally knocked over a 2,600-year-old Nigerian Nok statue. The magazine was photographing the terracotta statue — the oldest known figurative sculpture south of the Sahara — at Amran's house when the photographers decided to pick it up and move it to the opposite side of the room. According to the lawsuit,
During the photographers' move of the Nok figure, the Nok figure fell onto the floor and was smashed into a myriad of pieces, cannot be restored and is a total loss. Defendant, through the photographers, acted negligently and without the due care necessary with respect to the Nok figure, particularly in light of its rarity, value and fragility. As the result of defendant's negligence, the 2,630-year-old Nok figure owned by plaintiff was destroyed.
At least it was an inanimate statue and not a baby…
(via Courthouse News via Boing Boing)