Brianna Stoutenburgh- 17th birthday!
Rate This Persons Entry Here
Home Mountain: Crystal Mountain, WA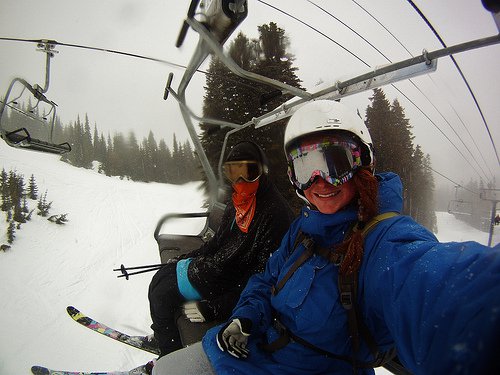 On my 17th birthday I spent the day snowboarding up at Crystal Mountain, Washington. In all of my 17 birthdays so far, this was the best birthday I have ever had. It wasn?t a surprise to my friends that I skipped school to hit the slopes on a blue bird day, especially since there was 3 feet of fresh pow. I arrived at Crystal that morning stoked to ride some fresh pow and headed up High Campbell Basin chair to get some fresh tracks. My step-dad and I were carving turns down the slopes breathing in the fresh crisp mountain air when all the sudden the tip of my board went right into the powder and I flipped down the slope through the powder and landed right back on my feet and continued to ride down. All I could do was laugh and keep riding. In the same day when on the ridge at the top of High Campbell Basin crossing over to the bowl, My step-dad was following me when the path went straight up and I bit it and fell. My step-dad didn?t see it either until he was there and right as he went up the path his ski?s popped off because it was so vertical, and came flying at me while he managed to flip to his back and landed right next to me. Luckily I got this all on film and put it on YouTube. My passion for snowboarding has blossomed so much in this past season that my requirements in colleges are that they need to be located near some mountains so I can have a quick escape to the slopes. Being a girl snowboarder has had its up?s and downs. I love it because the guys don?t expect me to be good but when they find out that I am its priceless to see the look on their faces. I can't get enough of the rush of being at the top of the mountain and being able to feel like you can touch Mount Rainier at your finger tips. Without the great people and the staff crew at crystal it wouldn?t have the same vibe. Everyone up there is so welcoming and the mountain has a chill vibe overall. Crystal Mountain offers so much, whether its big mountain, side country, back country, park and groomed runs that I am really glad to call it my home mountain. I can?t wait to one day when being asked, What?s your home mountain? when I?m in college or maybe a pro snowboarder and say, Crystal Mountain, Washington. It will be an honor.

Rating: 0.0/10 (0 votes cast)

Tweet