Bike Magazine ? November 2010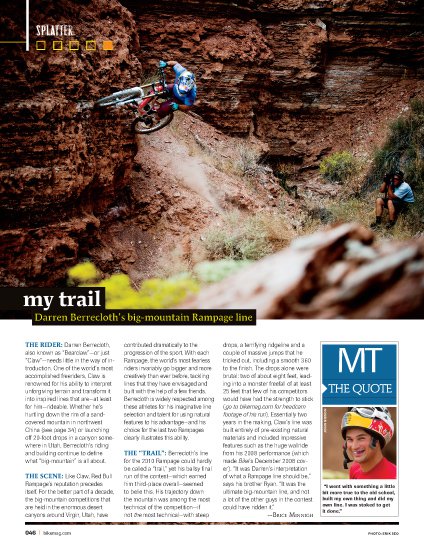 The first photos you have published in a new magazine are always cool, this time it's a bit cooler beceause it's in Bike Magazine. I had never shot any mountain biking until a week before the Red Bull Rampage but I got a chance to go to the Rampage this year and shoot, so why not right? It's an event that I've always wanted to go and watch and I was really looking forward to being behind the ropes, in the venue to shoot photos. The event itself is nuts, a complete media circus with helicopters flying around and more photographers and filmers surrounding single terrain features than you can imagine at times. At one point there were 27 photographers shooting a wallride that Darren Barrecloth was practicing on while prepping his competition line. In the case of the first photo above, everyone had a long lens on, so with the clouds looking cool as they were I decided to try the opposite approach. Looks like it worked! I'm hoping to get out next season and shoot a bit more bike, we'll see if I get the chance. It's a ton of fun! Thanks to Christian Pondella, Harookz and Sterling Lorence for pointing me in the right direction out there!
Check out the previous post on the Red Bull Rampage with another photo here.