Arnaud Rougier BC Road Trip
Arnaud Rougier, got fed up of waiting for snow in Europe so packed his bags and headed to Canada and BC powder. Here is a round up of their trip from Skipass.com:
Le road trip en Colombie Britannique d'Arnaud Rougier et Antoine Diet se poursuit avec une nouvelle étape dans la station de Revelstoke. L'overdose de poudreuse est toujours de mise et il nous ramène même une petite vidéo en guise d'avant goût…
Trip Colombie britannique
On the road again ?
Il est 9h, la neige tombe en abondance mais on ne va pas se dégonfler pour trois flocons. Le temps de débrancher le camping-car de ranger et fermer tous les placards histoire que rien ne vole pendant le trajet et nous voilà de nouveau sur la route.
Nous quittons Nelson un peu à reculons car l?endroit est vraiment sympa et on commençait à prendre nos petites habitudes. Enfin, on est là pour voir du pays et puis un road trip si on bouge pas c?est plus un road trip. Environ 300 km nous sépare de Revelstoke avec une traversée d?une heure en Ferry.Les routes sont très mal déneigées et on avance lentement avec notre gros V10, et nos 6 pneus d?été lisses ! Malgré tout, les km défilent tranquillement et après une bonne dizaine d?heures (bateau inclus) nous voilà enfin en terre promise?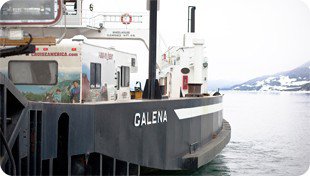 Revelstoke est une petite ville très américanisée. Fini l?ambiance hippies « tout le monde est sympa » de Nelson place au gros red neck pas là pour déconner. La station qui surplombe la bourgade n?existe que depuis trois ans, auparavant le domaine n?était accessible qu?en rando, skidoo ou cat skiing. Ayant vu l?engouement des canadiens pour le ski backountry les investisseurs se sont jetés dans un projet de station High-tech avec des vrais télésièges comme chez nous. Même sur les skis ca ne rigole pas ! La station est remplie de skieurs habillés dernier cri de la tête aux spatules. Tout le monde est chaussé des Fat de l?année, du dernier sac ABS et le casque avec la head cam semble de mise.
« L?habit ne fait pas le moine » me direz-vous ? Et bien ici oui ! Ils savent skier les bougres et le souci pour nous c?est qu?ils tracent dans tous les sens.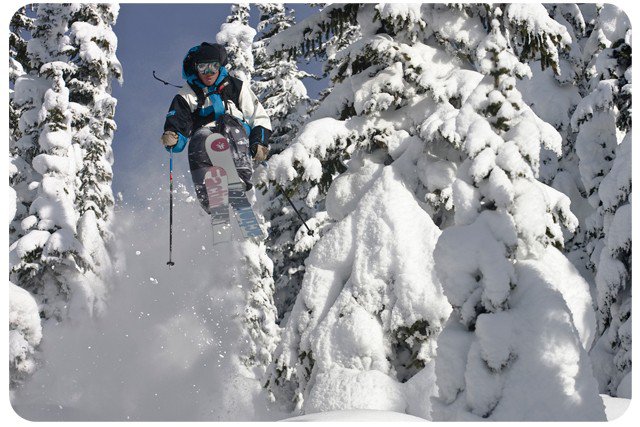 Après la première heure d?ouverture les 1263 hectares de « pistes » sont ravagés ! Même les endroits où il y a de la marche sont de vraies autoroutes. Le slogan de la station est d?ailleurs« Revelstoke The Powder Highway » Il faut savoir qu?il y a très peu de pistes damées mais la totalité du domaine est balisé, quadrillé, inspecté ! Nous prenons donc le temps de faire le tour pour vraiment scanner les endroits stratégiques quitte à se battre pour avoir la première montée à la prochaine chute de neige ! Le changement est un peu brutal, on est passé de la petite station familiale bien branchée rando hors piste, à l?usine à gaz grande échelle du backcountry.
Enfin stop au négativisme, l?endroit est exceptionnel, ainsi que les conditions. Il neige à fond, ce qui nous permet de rider quelques lignes de pillow dans la forêt et pour notre dernier jour tel un cadeau d?adieu : du soleil ! Il ne fais quasiment jamais beau dans cette région du Canada, chaque éclaircie est un privilège alors une journée de beau temps ?Nous profitons donc de la visibilité pour rider quelques cliffs repérées plus tôt et pour attraper quelques images avec de la belle lumière, Vincent est content !
Notre trip touche à sa fin, retour sur Nelson pour deux derniers jours de ski dans le brouillard total et camping car to Spokane oùnotre avion à hélices nous attend pour nous ramener à la maison où apparemment les marm
To check out the original article on skipass.com and to see more images from the trip, click HERE