3/13/12 Operation Mud Runnel Rescue/ Trip report
I stand on top of the Top of The world and stare in awe at what I see. A mid-May landscape of brown and white stares right back. Barren Vail pass and a rapidly melting east vail are an indicator of just how off this season has been in terms of snow. Nothing to do now but hike and train, ski EVs to get ready for the big game. Nice also to get away from the spring break madness that has taken over the mountain. Good Lord it's dangerous out there and I'll take my chances with the backcountry any day.
Thought about my options and realized that with the consistent temps and sun hit, the west wall's demise was near completion. Probably would be my last chance to rescue my AK JJ that I sacrificed last week during a moment of huberis. A few more days of the above 40 temps and sun would render the isothermic snowpack completely unsupportive and the West Wall starts ripping to the ground, entombing my ski in wet slide debris until late spring. The run to the ground scenario is something reserved usually for late April or May in a typical EV season. This year, March 13? Why not?
Rescue mission time. The only access it was to ski the run I had last time. There was no option to cut over from skier's right West wall and be high enough to get the ski. Plus, undercutting that entire area to get across wasn't an option.
Skied to the entrance of the Corner Pocket and thought about my last run, eating it, getting hit and losing a ski in the process. Shut my eyes for a second, deep breath and I push off onto March corn. I ski the upper, sparsely spaced old growth trees without incident.
Coming to the choke, the place where I failed last time, I stopped behind a large tree and peered in. I saw that the double stage drop was now a muddy runnel with snowmelt, bushes and mud leading to the runout area. Below in the debris zone is where my ski was supposed to be. I could see two specks of black, and a tip of a ski in the melting carved runout.
Getting down to it was the issue. There was no hucking the drop this time. It would be a tragic irony to land and go through the rest of the snow pack and lose another ski in another tomahawk. The answer lies in the river of water and mud trickling to my right. The next sequence is an ad lib that has no basis in snow science or widley accepted backcountry protocol. I don't give a shit. Sometimes you have to do what you have to get your ski.
First time for everything. Stood on a bushy bench looking down and considered my future.
Step One. Side Stashes off. (Taking your skis off is a no no, but there was no chance to downclimb mudrunnel on skis.)
Step Two. Throw side stashes like a spear into the debris pile below.
Step Three. Grab slippery root in the mudrunnel and try to down climb over a ledge covered in flowing water and mud.
Step Four. Realize gravity always wins, commit to the muddy ass slide over the ledge and air it.
Step Five. Land onto the debris pile below in a spider monkey position.
Step Six. Wallow/ swim in the snow to find and retrive AK JJ. Use as a support to get to the Sidestashes. Get on em and get out of there.
Skied out decent corn on the old debris piles next to recent wet slide debris in the mddle of the far left west wall area. The slide went over the first roll and down near the traverse out from Tele Line. The crown was just under the cliffs to the skier's right of my gully. It was about a foot and a half deep, the debris looked a day or two old.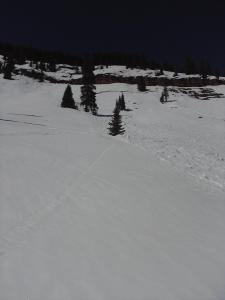 Spider monkey pentrometer confirmed that the snow pack on the west wall was being bridged by a rapidly weakening mid pack crust layer being saturated with melt water. Underneath is loose and unconsolidated to the ground. The end is near.
Rescue mission a success. I skied out with three, being careful not to clothes line myself on the traverese out. Another first in my fifteen seasons here. Prouldy displayed my hard earned, slightly muddy trophy on the bus.
Sam, a EVI follower who I didn't know, aked me if that was the indeed the rouge JJ from EVI. I laughed and confirmed. Talked about the state of EV and the crazy year on the way in.
EV season started two months late and ends a month early. No much left in between.