11th-14th December: Doug Bishop is Anchorman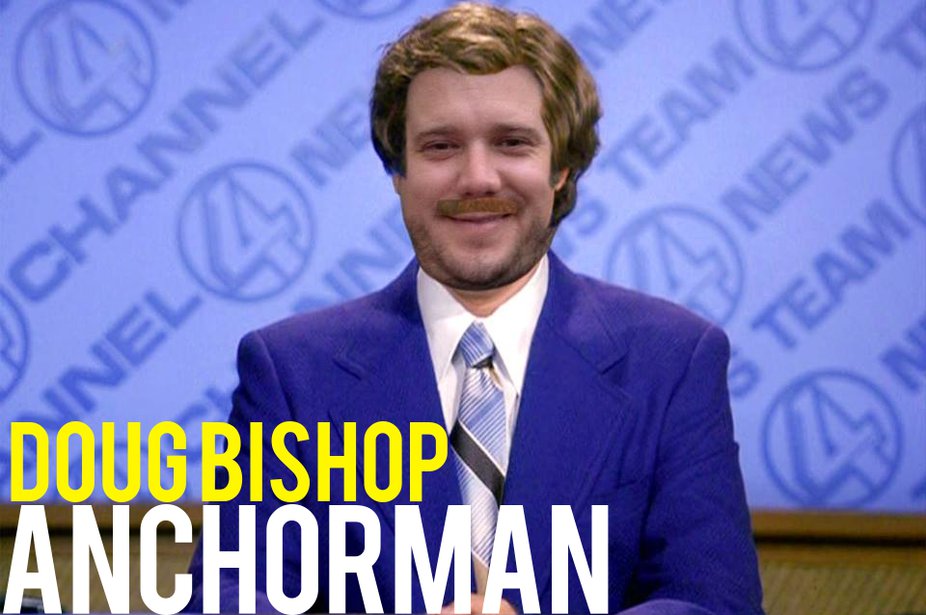 Doug Bishop is kind of a big deal. He'll be heading up the freeski coverage at this weekend's Dew Tour Breckenridge. The whole event will be live streamed, so make sure you book the weekend off and tune in for what is bound to be a performance worthy of Ron Burgundy himself. Doug will be checking out The Official Dew Tour Thread for feedback during the performance. He will also be co-hosting the pre-show, so send him some suggestions of what you want to hear about here. Right now my challenge to Doug is to work as many Burgundy quotes in to the live stream shows as possible.
Thanks to Gavin Rudy for the photoshop!
The entire live stream can be viewed at http://livestream.nbcsports.com
Live Stream Schedule
Thursday, December 11
Freeski Pre-Show 11:00 a.m. ET DewTour.com LIVE
Men's Freeski Slopestyle Semifinal 11:30 a.m. ET DewTour.com LIVE
Snowboard Pre-Show 2:00 p.m. ET DewTour.com LIVE
Men's Snowboard Superpipe Semifinal 2:30 p.m. ET DewTour.com LIVE
Friday, December 12
Freeski Pre-Show 11:00 a.m. ET DewTour.com LIVE
Women's Freeski Superpipe Final 11:30 a.m. ET DewTour.com LIVE
Snowboard Pre-Show 1:00 p.m. ET DewTour.com LIVE
Men's Snowboard Slopestyle Semifinal 1:30 p.m. ET DewTour.com LIVE
Snowboard Pre-Show 4:30 p.m. ET DewTour.com LIVE
Women's Snowboard Slopestyle Final 5:00 p.m. ET DewTour.com LIVE
Saturday, December 13
Snowboard Pre-Show 12:30 p.m. ET DewTour.com LIVE
Men's Snowboard Superpipe Final 1:00 p.m. ET DewTour.com LIVE
Freeski Pre-Show 4:30 p.m. ET DewTour.com LIVE
Men's Freeski Superpipe Final 5:00 p.m. ET DewTour.com LIVE
Sunday, December 14
Freeski Pre-Show 12:30 p.m. ET DewTour.com LIVE
Men's Freeski Slopestyle Final 1:00 p.m. ET DewTour.com LIVE
Snowboard Pre-Show 3:30 p.m. ET DewTour.com LIVE
Men's Snowboard Slopestyle Final 4:00 p.m. ET DewTour.com LIVE